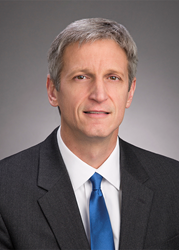 By growing with accomplished practitioners like Mike, who bring years of industry-specific experience, we are able to provide tremendous value to our clients...
Washington, DC (PRWEB) April 01, 2015
Michael Maloney has joined Holland & Hart's Washington, D.C. office as Of Counsel, bringing extensive government contracts and litigation experience. Maloney's practice significantly bolsters the firm's drive to deliver profession-leading services to clients around the world who do business with the federal government--from procurement contracts to regulatory compliance to disputes with government agencies.
Before joining Holland & Hart, Maloney practiced in the Washington, D.C. offices of Brown Rudnick, Epstein Becker & Green, and Macleay, Lynch, Gregg & Lynch.
"Mike is a tremendous addition to our D.C. office and our extensive government contracts practice," said D.C. Administrative Partner Thomas C. Jensen. "By growing with accomplished practitioners like Mike, who bring years of industry-specific experience, we are able to provide tremendous value to our clients through a creative and highly competitive fee structure. And, because of what Holland & Hart stands for, we offer top-flight lawyers a wonderful professional culture that strongly reinforces client service and professional satisfaction. The business model is very strong, and contrasts well with a still sluggish legal market where adaptation to change is often slow and professional cultures are unsettled."
A seasoned litigator with over 25 years in private practice, Maloney advises clients on complex bid protest matters before the Government Accountability Office, the Court of Federal Claims, or directly to the administering federal agency. He also counsels clients on federal, state, and local procurement compliance, guiding clients through the labyrinth of statutes and regulations, and advises contract awardees how to successfully administer contracts, correctly calculate and submit requests for payment and, when necessary, pursue and resolve payment claim disputes.
Maloney's extensive government contracts experience ranges from representation of clients in national security matters involving Department of Defense, Department of Energy, and intelligence community procurements to information technology purchasing and services contracts, Federal Emergency Management Agency, and Department of Health and Human Services procurements. Maloney also counsels clients on trade secrets and privacy laws and represents clients in complex civil litigation including actions to protect clients' trade secrets and to enforce privacy laws.
Holland & Hart's Government Contracts group is devoted to helping clients navigate the complex world of doing business with the government. With expertise both as government counsel and as general counsel for firms doing business with the government, they have the understanding and perspective to see the issues from the client's point of view and fashion solutions that will satisfy the government.
###
About Holland & Hart
Holland & Hart LLP delivers integrated legal solutions to regional, national, and international clients of all sizes. Since its inception in 1947, Holland & Hart's approximately 500 lawyers have consistently been recognized by leading national and international peer and industry review organizations for innovation and dedication to the practice of law. For more information, visit http://www.hollandhart.com.