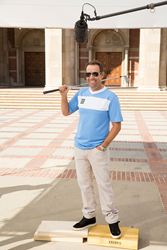 New York, NY (PRWEB) April 01, 2015
The U.S. Department of Health and Human Services currently reports there are "more than 123,000 patients who are waiting for a lifesaving organ transplant." Many Americans may not be aware of this surprising statistic.
In the "Play Through with Erik Compton to Donate Life" PSA, Erik Compton, a PGA TOUR golfer and two-time heart transplant recipient, raises awareness for organ donation and encourages Americans to become organ donors. He inspires viewers by reminding them, "You too can donate life."
In the PSA, Erik joins news anchor and kidney donor, Phillip Palmer, and a group of organ transplant recipients, including professional soccer player Samuel Gordon, and athletes Eric Drear, Cristian Sanchez, Nick Wallace, and Jennifer Golden. Each individual shares their personal experience with organ donations and explains that they are alive and healthy today because people chose to be organ donors.
Donate Life has found that 90% of Americans say that they support organ donation, however only 30% are aware of the correct steps needed to be taken in order to become a donor.
The PSA directs people who would like to become organ donors to visit Donate Life America at http://www.donatelife.net for more information about donation, how to register in their state's donor registry and, importantly, reminds them to tell their families about their decision. Discussing organ donation with family members helps ensure their organ donation wishes are honored.
For more information, downloadable and shareable videos and images, please go to http://www.magicbulletmedia.com/MNR/DonateLife