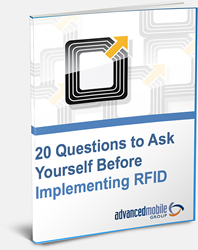 RFID has evolved well beyond what most businesses are aware of since the last time they considered new tracking solutions...
Doylestown, PA (PRWEB) April 01, 2015
Though RFID technology is at the forefront of innovation determining if this technology is the correct solution for a business means there will be lots of questions. AMG's new eBook will answer 20 of the most crucial questions businesses need to ask themselves before considering RFID.
RFID is not only still widely misunderstood, but has evolved significantly in the last ten years so that the potential scope and range of applications has moved beyond what most businesses imagined the first time they may have researched its potential as a soluition.
Having now pervaded into a great many more applications and industries than ever, facility managers, lean consultants and operations experts will want to re-examine the potential for this technology to deliver rapid improvements to their cost structure, turn velocity and other critical KPIs.
AMG's new eBook provides answers for the twenty most common questions being asked about RFID today, including:
1. "What kind of RFID tag should be used?"
2. "What is currently your biggest frustration with tracking inventory?"
3. "What types of codes are you trying to read and at what distances?"
...and seventeen more. Get the "20 Questions To Ask About RFID" eBook here.
About Advanced Mobile Group (AMG)
AMG provides tailored, industry-specific solutions that exceed their clients' standards for performance and reliability. From hardware and software to integration services, Advanced Mobile Group delivers complete, end-to-end mobile computing solutions from leading manufacturers—providing unparalleled value to clients of all sizes. With a deep knowledge and experience that has overseen hundreds of implementations over 20 years, AMG delivers improved speed, accuracy and transparency through the most cost-effective efficiiency gains mobile solutions can deliver.