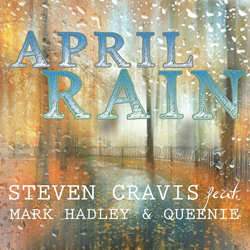 What would be really cool is if it started raining in California while people dance to this!
San Francisco, CA (PRWEB) April 02, 2015
Pianist, composer, producer Steven Cravis, along with singers Mark Hadley (UK) and Queenie invite dance groups and individuals to post to YouTube their choreographed or freestyle dance videos, to the new song April Rain. The ambient pop single will be released on iTunes, AmazonMP3, Spotify, Google Play Music, CD Baby and more, on April 2, 2015.
People of all ages and dance skill levels are invited – funny, fun, professional or amateur dancers – groups or individuals are all welcome to participate. Actual rain does not need to be in the videos, only dancing and the audio track 'April Rain (feat. Mark Hadley & Queenie)'.
All dance videos must be uploaded to YouTube with 'public' setting, use only the song 'April Rain (feat. Mark Hadley & Queenie)', and must include hashtag #AprilRainDance in their YouTube video description in order to be permanently included on the site http://www.aprilraindance.com Videos promoting profanity, nudity, violence and/or hate will not be considered.
Background: Composer Steven Cravis sent the backing music tracks to his friend, and New Age Celtic Ethereal singer, collaborator, Queenie, originally as an idea to bring awareness to climate change, specifically the California drought. The song evolved lyrically (Lyric and Melody by Queenie) to have more of a personal feel, with the simile 'we are changing, falling like April rain'. Mark Hadley (UK) was included in the project for his additional vocals, which added a rich, Sting/Peter Gabriel-ish feel and sound to the mix.