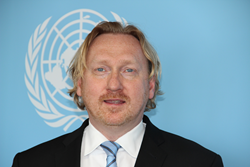 GULFPORT, Fla. (PRWEB) April 02, 2015
Bradnee Chambers, executive secretary of the United Nations Environment Programme Convention on the Conservation of Migratory Species of Wild Animals, will present the Edward and Bonnie Foreman Biodiversity Lecture on April 16 at noon in the Great Hall at Stetson University College of Law, 1401 61st St. S., Gulfport.
The complimentary lecture on conserving wildlife with a focus on migratory species is open to the public.
Chambers' lecture takes place during Stetson's 19th International Environmental Moot Court Competition, April 16-18. Sixteen teams of law students will compete at Stetson Law in the International Finals of the competition. Chambers will be a final round judge along with Wil Burns, editor-in-chief of the Journal of International Wildlife and Policy.
Topics are designed to prepare law students from around the world to present on environmental issues that cross national boundaries. This year's moot court competition focuses on shark finning and trade restrictions. Fishermen harvest shark fins as a delicacy, but discard the remainder of the living shark. Students will make arguments related to the protection of sharks and trade restrictions.
Student environmental advocates competed in regional rounds around the world in East and Southeast Asia, Central and Eastern Europe, India, Ireland, Latin America and North America for the chance to compete in the international finals at Stetson University.
To learn more about the International Environmental Moot Court Competition at Stetson, visit http://www.law.stetson.edu/international/iemcc/.
###
About Stetson University College of Law
Stetson University College of Law, Florida's first law school, has prepared lawyers and leaders since 1900. Today, Stetson leads the nation in blending legal doctrine with practical training, evidenced by its top-ranked programs in advocacy and legal writing. Through our academically rigorous curriculum and commitment to social responsibility, Stetson lawyers are ethical advocates ready to succeed in the legal profession.