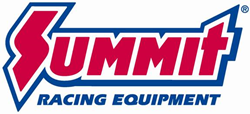 Tallmadge, OH (PRWEB) April 06, 2015
Hooker has upped its late model Mustang game in a big way with its new Blackheart Series headers and exhaust systems. All Hooker Blackheart products are made from lightweight 18-gauge, 304 stainless steel material for strength and long life. In fact, Hooker covers Blackheart parts with a limited lifetime warranty.
Blackheart Headers
The Blackheart headers are available in two styles. The long-tube headers feature 1 3/4 or 1 7/8 inch primary tubes, plus three inch diameter Long Transition collectors with merge spears for maximum flow and increased exhaust velocity. The headers also have 3/8 inch thick CNC laser-cut flanges for excellent sealing.
The shorty headers have 1 7/8 inch primary tubes and are designed to provide maximum ground clearance and easy installation. All Blackheart headers have a natural finish.
Blackheart Exhaust Systems
The Blackheart cat-back system features three inch diameter tubing, an X-pipe to balance exhaust pressure and increase exhaust gas velocity, turbo-style mufflers with a straight-through design for improved flow, and polished stainless steel tips. The axle-back systems are available with or without mufflers. All Blackheart exhaust systems have mandrel-bent tubing and fit the factory exhaust hangers.
Blackheart X-Pipe
Designed for use with Blackheart long tube headers, the X-pipe balances exhaust pressure between the sides of the exhaust system producing a broad power curve. The tubing is mandrel-bent and fully MIG-welded.
Summit Racing Equipment
http://www.SummitRacing.com
1-800-230-3030