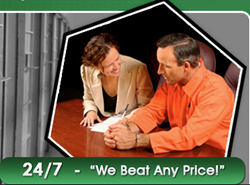 The channel provides information relevant to individuals looking for the services being offered by OK Bail Bonds.
PASADENA, TX (PRWEB) April 03, 2015
OK Bail Bonds, a Pasadena, TX based bail bondsman serving the Greater Houston area and beyond, has recently launched a YouTube channel. The channel provides information relevant to individuals looking for the services being offered by OK Bail Bonds. The channel also offers important information and tips related to the bail bonds process and what consumers should know.
OK Bail Bonds, through its YouTube channel and other online outlets, educates the public about the process of obtaining a bail bond in order to secure their release, or the release of a family member or other defendant. The announcement that OK Bail Bonds will provide important information online via the YouTube channel will serve to further educate those looking for specific guidance.
Customers Can Learn What OK Bail Bonds Offers Through Video
The YouTube channel provides a source for education and the distribution of information relevant to the needs of those looking to learn about Ok Bail Bonds, and the different services the company provides. This means of education and information distribution through the use of social media as an effective education tool allows OK Bail Bonds to provide a wider customers base with useful tips and up-to-date information on the role of the bail bondsman, how bail bonds work, and the best way to seek the services of a bail bonds provider when needed.
OK Bail Bonds Services and Offerings
According to information provided on OK Bail Bonds, a bail bonds service provides an important link to customers involved with the legal system. A bail bonds service provides fast service, assisting arrestees with a bond (collateral) to meet their bail requirements and a secure release from jail. A bails bondsman's reliability and accessibility are important, and maintaining a reputation of fair dealing and honesty helps a person facing a legal issue receive the assistance needed to regain their freedom and address their situation.
About OK Bail Bonds
OK Bail Bonds provides bail services for residents in Harris and Brazoria County, Texas, which includes the city of Houston. The company deals with many different criminal bond matters, from DUI/DWI, misdemeanor, traffic, and assault cases. Services provided by OK Bail Bonds are offered on a 24 hour, 7 day a week basis. The company is mobile and able to bring services directly to its customers. In addition, they offer flexible payment plans to accommodate most financial circumstances.
Information on OK Bail Bonds YouTube Channel, and services provided for bailees in the Greater Houston area, is available online through the company's website at http://www.okbailbonds.net/ or by contacting OK Bail Bonds directly by telephone at (713) 477-5400. Visit OK Bail Bonds YouTube Channel at https://www.youtube.com/watch?t=29&v=rfL1zRJfH78 for more information designed to be useful to customers interested in the services of the company.