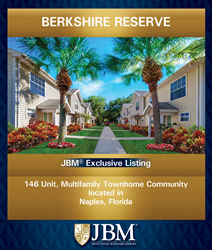 Tampa, FL (PRWEB) April 06, 2015
JBM® launched to market Berkshire Reserve, constructed in 2001; Berkshire Reserve features 37 two-story buildings plus a leasing office, nestled within attractively landscaped grounds featuring a large central lake. The Property's unique townhome style floor plan offers a spacious 3 bedroom, 2.5 bath unit totaling 1,300 square feet of living area. Berkshire Reserve represents a true value-add opportunity due to its strong demographics location, townhome floor plan, sense of community and excellent proximity to the largest public recreation area in the region, Golden Gate Community Park.
Berkshire Reserve benefits from a desirable and convenient location just north of Interstate 75, seven miles from Downtown Naples, and a short drive from the area's major employment centers. The immediate area is characterized by quiet residential communities and neighborhood retailers. Collier county is one of the fastest growing regions in the United States and continues to have one of the strongest economies in the State of Florida.
About JBM® Institutional Multifamily Advisors
JBM® Institutional Multifamily Advisors is the most reliable source of brokerage services in the institutional multifamily asset and investment industry with Florida offices located in Tampa, Orlando, and Naples. JBM® specializes in the sale of high-rise, mid-rise and garden style apartment communities throughout the Southeast United States and focuses exclusively on asset disposition services, capitalization and recapitalization of existing and merchant development opportunities of large apartment type portfolios and singular assets for Domestic and Foreign Institutional, Private National and Regional clientele.
The firm's collective team efforts have exceeded $8.9 Billion and over 102,000 apartment units listed, marketed and sold. The firm delivers a strong legacy of excellence in representation and the most effective investment sales platform throughout the Southeast United States, meriting Jamie May and JBM® as a trusted leader in the multifamily industry.
If you would like more information about this property or to schedule an interview with Jamie May, Chairman & CEO or Eddie Yang, Principal and Executive Director please, contact Claudia Raines at 813.812.5003 or email. To learn more, please visit: JBM.com