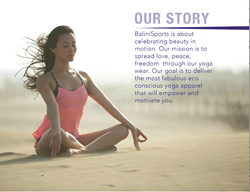 New York (PRWEB) April 22, 2015
Yoga apparel brand BaliniSports is hosting its first ever community yoga class in New York City on April 22nd at the famous Mercedes Club. The event is a celebration of the brand's much-anticipated new Gemini Collection that features interchangeable tank tops, leggings, shorts, and bra attachments. The event is expected to draw magazine editors and influential names in the worlds of fashion, yoga, and fitness. Having been featured in publications like InStyle, Lucky, Shape, Muscle & Fitness Hers, and Fit Pregnancy, BaliniSports is already a favorite name of many magazine editors and fitness stylists.
"To give you an idea of what to expect from this very exciting event, our guests will move from the red carpet to yoga mats upon their arrivals," said Ada Hung, founder of BaliniSports. Guests of the event will have a chance to walk a formal red carpet and be featured in press photos. Editors in attendance will have the opportunity to try on pieces from the new Gemini Collection and offer feedback to designers from BaliniSports. Instruction will be provided by Talia Sutra. Guests will receive gift bags that are stocked with a Jade yoga mat, a yoga towel, coconut water, and few unique surprises from Ada Hung herself. The event also gives editors and people in the fashion world a chance to mingle with likeminded industry insiders and become familiar with the BaliniSports philosophy of freedom and empowerment.
"This event truly is a celebration because getting out our brand new collection of eco-friendly, high-quality performance apparel has been a challenge," said Hung. "We are so proud about how beautiful and durable our final products turned out and we can't wait to share them with our favorite editors and the rest of the world. This line is proof that hard work and determination can make anything possible, and we want our passion for the planet and for using ethical and environmentally friendly production methods to spark some personal inspiration in all who encounter BaliniSports."
The BaliniSports community yoga red carpet event will take place at the Mercedes Club on 550 West 54th Street in New York City on April 22, 2015. News regarding the event and the brand's upcoming Gemini Collection can be obtained by visiting BaliniSports.com or following the brand in Facebook, Twitter, and Instagram.