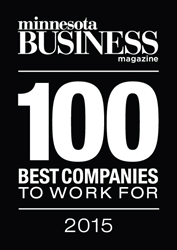 Our mission is to fuel lives, and that begins with our employees and an incredible culture of collaboration, commitment and fun.
BROOKLYN PARK, Minn. (PRWEB) April 07, 2015
Octane Fitness, LLC, the leading brand of zero-impact cardiovascular equipment, was named one of the 100 Best Companies to Work by Minnesota Business for the fourth consecutive year. Recognizing small, midsize and large businesses in Minnesota, these awards are based on leadership, benefits, work environment, innovative training programs and employee satisfaction.
"Our mission is to fuel lives, and that begins with our employees and an incredible culture of collaboration, commitment and fun," said Dennis Lee, president and CEO of Octane Fitness. "This award continues to celebrate what keeps Octane Fitness fueled and successful."
To determine the winners, an independent research firm distributes an anonymous online questionnaire to company employees, and then tabulates results in areas of work environment, employee benefits and overall employee happiness. This year, company participation was reported to be very high and competition intense.
Minnesota Business will present the 2015 100 Best Companies to Work For awards at a special event on June 4 at the Depot Renaissance Minneapolis Hotel, and winning companies will be featured in the June issue of the magazine.
Founded in 2001 in Brooklyn Park, Minn., by Lee and Tim Porth, Octane Fitness is highly regarded in the fitness industry for its unprecedented breakthroughs in the zero-impact cardiovascular equipment category, including:

Perfecting standing elliptical machines with innovations including SmartStride®, Converging Path™ and MultiGrip™ handlebars and Workout Boosters
Creating a new exercise category with its xRide® recumbent elliptical
Combining cardio and strength interval training with CROSS CiRCUIT®
Taking workouts in a new direction with the LateralX® lateral elliptical machine
Inventing zero-impact running with the revolutionary Zero Runner®
Optimizing cross training with the new XT-One™ cross-trainer
Designing customized, progressive, goal-based training with the SmartLink™ app
Since 2003, Octane's products have earned more than 70 Best Buy awards from leading consumer and trade publications. Products are sold through direct sales, at authorized specialty fitness retail stores in North America and through a global distributor network.
Today, the company has 67 employees in Brooklyn Park, with international offices in the United Kingdom, Hong Kong and Rotterdam, The Netherlands.
Octane Fitness Background
Relentlessly fueled to reinvent zero-impact cardiovascular exercise, Octane Fitness has perfected the elliptical machine, introduced a new category with the xRide® recumbent elliptical, designed strength-infused cardio with the unique CROSS CiRCUIT®, created exercise in a new direction with the LateralX®, reinvented running with the Zero Runner®, optimized cross training with the XT-One™ that does it all and is leading smarter training with SmartLink™. Defined by standout innovations, and driven to deliver more effective, efficient and rewarding workouts, Octane is engineering elliptical domination.
# # #
Find Octane at http://www.Facebook.com/OctaneFitness. Images are available; contact Julie King at 847.638.1582 or jking(at)octanefitness(dot)com. For more information, contact the company at 888-OCTANE4 (888-628-2634) or http://www.octanefitness.com. Octane Fitness, CROSS CiRCUIT, LateralX, xRide and Zero Runner are registered trademarks of Octane Fitness.