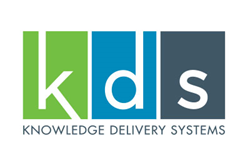 "This recognition speaks volumes about the impact of our cutting-edge professional development solutions and our goal to take the focus away from teacher accountability and put it back where it belongs - on the growth and development of our teachers."
New York, NY (PRWEB) April 08, 2015
Knowledge Delivery Systems (KDS), a leading provider of strategic and blended professional learning solutions for states and districts, today announced that its Professional Learning Platform (PLP), a centralized professional development hub for educators, was named a finalist for the 2015 SIIA Education CODiE Awards in two categories: Best Professional Learning Solution for Education and Best Collaborative Social Media Solution for Educators.
The award program is organized by the Software & Information Industry Association (SIIA), the premier award for the software and information industries. The SIIA CODiE Awards have been recognizing product excellence for 29 years. The awards have over 85 categories and are organized by industry focus of Content, Education, and Software.
KDS' PLP is a pioneering cloud-based, enterprise-level professional development solution that seamless integrates personalization, curated content and social collaboration tools for K-12 educators. The innovative platform allows access to continuous professional learning that empowers educators to take ownership of their learning. Whether accessing on-demand resources, interacting with other educators, or leveraging KDS' expert-led online PD courses, PLP combines the best of breed of deep learning and informal (collaborative) learning that is proven to improve practice.
"It's an honor to be recognized as a finalist in two categories at the 2015 CODiE Awards," said Alvin Crawford, CEO of KDS. "This recognition speaks volumes about the impact of our cutting-edge professional development solutions and our goal to take the focus away from teacher accountability and put it back where it belongs - on the growth and development of our teachers."
Winners of the CODiE Awards will be announced during a special awards dinner at the nation's leading education technology conference, the Education Industry Summit, in San Francisco on May 5. The announcement will also be live streamed.
"This year's finalists are breaking ground with new business models and innovative products. We are pleased to recognize the best in educational technology with these 157 products," said Karen Billings, vice president of the SIIA Education Technology Industry Network. "I look forward to honoring them all in May at the Education Industry Summit."
About Knowledge Delivery Systems
Knowledge Delivery Systems (KDS) is the leading provider of research-based, blended-model strategic professional development solutions for districts, schools, and teachers. KDS was founded nearly 15 years ago to help school districts and states transform professional development to dramatically improve teacher effectiveness and raise student achievement. KDS builds district-wide system solutions and high quality online courses that are developed with the nation's leading education experts and researchers to address educators' most important challenges in the classroom. Today these courses are delivered through KDS' Professional Learning Platform (PLP), which leverages the best of learning communities to make educator learning engaging, convenient and social. For more information, visit: http://www1.kdsi.org
About SIIA
SIIA is the leading association representing the software and digital content industries. SIIA represents approximately 800 member companies worldwide that develop software and digital information content. SIIA provides global services in government relations, business development, corporate education and intellectual property protection to the leading companies that are setting the pace for the digital age. For more information, visit http://www.siia.net The Education Technology Industry Network (ETIN) of SIIA serves and represents more than 200 member companies that provide educational software applications, digital content, online learning services and related technologies across the K-20 sector. The Division shapes and supports the industry by providing leadership, advocacy, business development opportunities and critical market information. For more information on ETIN of SIIA, visit http://www.siia.net
MEDIA CONTACT:
Alyssa Miller
973.615.1292
alyssa(at)ammediaworks(dot)com