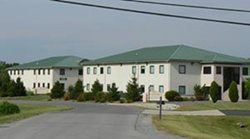 We operate Burr Plaza as if our personal reputations depend on it … because they do.
Jefferson County, WV (PRWEB) April 08, 2015
Burr Plaza Office Park in Jefferson County, West Virginia, located in the Jefferson County Development Authority's Burr Business Park, just 60 miles from Washington, D.C., offers newly constructed, state-of-the-art, professional office space in two buildings. Both the Washington Building and Jefferson Building feature separate, secure entrances with electronic key access and monitoring, rest room facilities, well-equipped kitchens, and open floor plans suitable for a variety of business situations.
The Washington Building has 12,000 square feet available for lease, with 6,000 square feet on first and second floor each.
The Jefferson Building first floor has 5,724 square feet that can be combined with 2nd floor for 11,448 square feet of space.
Owned and managed by RAI Properties, LLC, the almost twenty-acre park-like campus with 100,000 square feet of modern retail, office and commercial space, is centrally located between Charles Town and Martinsburg, West Virginia, and offers the following advantages:
Direct access to Rt. 9
Affordable Rents: No CAM Charges, No B&O Taxes, No Municipal Taxes
State-of-the-Art Facilities
Flex Space Construction
Customized Lease Options
Local Ownership
On Site Management
Safe & Secure Environment
Ample Parking
RAI Properties, LLC has been pioneering commercial business infrastructure in Jefferson County since 2003," said Managing Partner Jim Ruland. "Burr Plaza is our sole undertaking and our only focus. The principals and employees of RAI Properties live here in the Eastern Panhandle. We are your neighbors, and we operate Burr Plaza as if our personal reputations depend on it … because they do."
Kristen Engelke, Property Manager/ Director of Marketing & Sales
304-728-0192, Kengelke(at)raiprops(dot)com
59 Ruland Road, Suite D (Buchanan Building), Kearneysville, WV 25430
University Healthcare at Home
"I simply could not be happier with the service I have received from RAI Properties. They designed the office to my specifications and executed the build-out flawlessly. Subsequent service has been attentive, personal and always professional." - Judy Hockman, Director
Kohlhepp Allstate Insurance Agency
"RAI Properties is very accommodating and supportive. They are willing to go the extra mile to make sure my office and grounds are well maintained." - Ray Kohlhepp, Proprietor
Kidz Kastle Child Care Center
Kidz Kastle Child Care Center would like to thank the entire RAI Properties staff for always being there whenever you need them! Whether it's a maintenance issue or business issue they are always there for you! The plaza is always well kept and it's just an honor to have a business here. I thank them for not only accepting our business but also helping with advertising. I couldn't picture myself in another plaza! Thank You RAI Properties! - Bianca Fowler, Owner
Jefferson County Development Authority
Managed by the Jefferson County Development Authority, the 400-acre Burr Business Park was master planned to be strategically accessible for raw materials, finished products, employees and customers. Its strategic Mid-Atlantic location, with easy access to major transportation routes, makes Burr ideally situated for manufacturing and many other industries. Shovel-ready lots offer all utilities, including fiber, throughout the park. Lots are one to five acres in size, but may be combined to accommodate larger parcels. Burr is home to almost 60 companies, including such distinguished manufacturers as Automated Merchandising Systems, Royal Vendors, and the Schonstedt Instrument Company.
Established in 1979, the JCDA facilitates relocations and start-ups, supports existing businesses and works to improve the business climate and create jobs. With a strategic Mid-Atlantic location just 60 miles from Washington, D.C. and ready access to major transportation routes, Jefferson County is ideally situated for business, manufacturing and industry and is a major economic driver in a state that boasts the nation's fourth lowest cost of doing business. For more information about the JCDA click or call: jcda(at)jcda(dot)net, 304-728-3255.