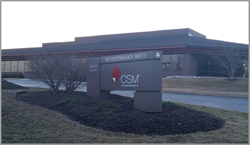 Our new Malvern facility and staff will be crucial in supporting the significant growth CSM anticipates over the next few years.
Malvern, PA (PRWEB) April 08, 2015
CSM, a leading clinical trial supply company, has announced its plan to open a second cGMP facility in Malvern, Pennsylvania early this year. The company has leased a 22,500 SF building to better serve its current and growing client base.
CSM has invested $1.5M to update the facility in order to meet cGMP standards. Once completed, the state-of-the-art facility will be fully equipped to handle a variety of clinical trial projects. Services offered at this facility will include temperature-controlled storage, both primary and secondary packaging and labeling, global distribution, label production, controlled substance storage, returns, and receiving.
"Our new Malvern facility and staff will be crucial in supporting the significant growth CSM anticipates over the next few years," said Gerald Finken, CEO and President at CSM. "I am very excited that CSM will now have a physical presence on the East Coast, which will enable us to better deliver our quality, innovation, and personalized service to clients and patients around the globe."
Staffing for the East Coast facility resulted from the acquisition of a global pharmaceutical company's clinical supplies department. Ten full-time employees, whom will be based out of the Malvern facility, joined the CSM team in January 2015. These new staff members have extensive experience within the pharmaceutical and biotechnology industry. It is projected that this location will create additional jobs in the next three years.
Renovations will begin in April 2015, with an anticipated opening date of mid-year 2015. The new facility is located at 300 Technology Drive Malvern, PA. CSM's headquarters will remain at 342 42nd St S Fargo, ND.
About CSM
CSM provides packaging, storage and distribution services with quality-driven processes to enhance biotechnology and pharmaceutical clinical trials worldwide. The company has continued to evolve with its blend of unique and traditional clinical trial services that improve efficiency and accuracy.
CSM is the innovator of On-Demand Packaging and Labeling services, an industry breakthrough in which clinical supplies are made specifically for, and immediately prior to, each shipment. Some of CSM's other core services include: traditional packaging and labeling, cold chain logistics, controlled drug services, returns and reconciliation, clinical label printing and global distribution. For more information visit, csmondemand.com.