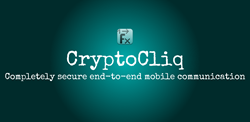 Personalized mobile encryption solution. No SSL, PKI, servers, Internet companies or other third party involvement.
Coquitlam, BC (PRWEB) April 08, 2015
Cryptocliq is a device to device personalized encrypted communication over SMS or Internet.
In contrast to other applications in encryption market, Cryptocliq rules out the suspicion of a server intrusion, hacking, users information disclosure or predefined encryption/decryption keys. Information is simply non-interceptable.
CryptoCliq is based on novel encryption that does not use or relates to any known encryption systems
Founded on user credentials (Id, Key) a dynamically unique cryptosystem is configured. The new cryptosystem is part of a virtually infinite family of cryptosystems and gives no information regarding its underlying algebraic structure and key space. Therefore, it can not even be brute-force.
Features

Mobile-to-mobile encrypted data (message, file) communication
Local device (message,file) encryption
Communication channels (at your convenience)
SMS - encrypted message sent via Messaging service
Internet - encrypted message sent via Internet Messaging applications.
Internet - encrypted file sent via Gmail