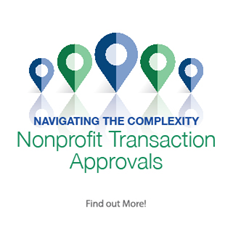 Consolidations of healthcare providers may be accomplished through a number of arrangements that require unique considerations and analysis beyond traditional valuation methods
Knoxville, TN (PRWEB) April 08, 2015
PYA has released a new white paper, "Navigating the Complexity of Nonprofit Transaction Approvals," which examines the ins-and-outs of consolidations of nonprofit healthcare providers. The paper describes key competencies the parties' experts should have in order to comply with state regulatory parameters and ensure that such consolidations benefit their communities.
As stated in the white paper, "Consolidations of healthcare providers may be accomplished through a number of arrangements that require unique considerations and analysis beyond traditional valuation methods."
The white paper also notes that expertise in healthcare payment and delivery transformation is essential for evaluating potential consolidations.
Additional information pertinent to nonprofit consolidations may be found on the PYA website.
PYA is well-versed in the complex business and regulatory environment of the healthcare industry, with a unique understanding of the issues surrounding consolidations of nonprofit providers and the ability to assess the community benefit of the proposed transaction—even in the rapidly changing environment of healthcare payment and delivery. PYA's team of professionals assists healthcare counsel and state agencies with services that include valuation, strategic planning, organizational structuring, financial analysis, economic impact analysis, data analysis, auditing, and monitoring.
About PYA
For over three decades, Pershing Yoakley & Associates (PYA) has provided timely insight and strategic support, helping clients thrive in the midst of rapid change. PYA is ranked by Modern Healthcare as one of the nation's largest privately held healthcare management consulting firms. For more information, visit http://www.pyapc.com/.