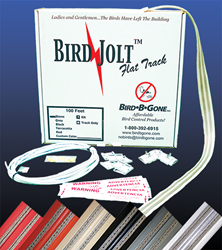 Humane and highly effective, Bird Jolt Flat Track is the electric track most often specified by architects and government agencies.
Irvine, CA (PRWEB) April 08, 2015
Bird B Gone, the leader in bird control products for commercial, industrial and residential applications now offers its Bird Jolt Flat Track bird deterrent in six different colors.
Ideal for deterring pest birds from ledges, signs, rooftops, I-beams, parapet walls, conduit, and virtually any flat or curved surface, the electrified flat tracks impart a harmless electric shock that convinces bird pests to stay away. The availability of these tracks in a rainbow of colors means that they blend in easily with their surroundings. The colors include clear, grey, stone, black, terracotta and red.
Humane and highly effective, Bird Jolt Flat Track is the electric track most often specified by architects and government agencies. It's specifically designed to deter birds from perching and roosting. The track effectively modifies a bird's behavior, "educating" bird pests like pigeons, sparrows, gulls, starlings, crows and many other species to stay away.
Easy to install and set up, the flexible track features a UV-protected PVC base that bends a full 360° without compromising its integrity. This allows the track to easily follow the rounded surfaces of signage letters or other curved architectural features of a structure or building. The waterproof track features tight connections to ensure both safety and installation ease. Once installed, the low-profile track is virtually invisible, since it measures just 1/4" at its highest point. The track comes in 100 ft. rolls and can be glued down to any surface. The entire system can be powered by either an AC charger or a solar charger.
Pest bird droppings can eat into paint, fabric, plastic, metal and even degrade stonework. Bird droppings also create a health hazard, since they can carry any of 60 known diseases, including salmonella. Bird nesting debris can block vents, prevent AC units from functioning, and cause electrical fires around signage.
Bird Jolt Flat Track is the only electric track bird deterrent system with patented anti-arcing design to guard against track short outs. It's also the only system with patented glue troughs along the base to insulate the track's conductors. To ensure durability and safety, the track features a corrosion resistant copper, tin-plated knitted wire. This wire is not only stronger than steel but resists the corrosive effects found in alkali or acidic environments. The unique knitted design incorporates a tube-within-a-tube construction for superior conductivity and strength.
Bird Jolt Flat Track is manufactured in the USA by Bird B Gone, the world's largest manufacturer and distributor of bird- and critter-control products, providing effective and humane solutions for a pest-bird-free and critter-free environment.