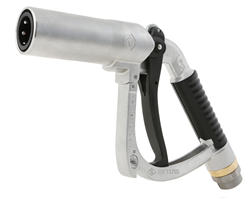 "Many of our largest customers are utilizing the nozzles, and are thrilled with the performance and simplicity."
Georgetown, TX (PRWEB) April 08, 2015
CleanFUEL USA®, an industry leader in propane autogas technology, today announced immediate availability and primary distributorship of the UL listed Elaflex ZVG2 Euro-style nozzle.
For more than 20 years, the Elaflex ZVG nozzle has been used with propane autogas dispensers worldwide. This long-term experience enabled Elaflex to develop the ZVG2, now UL listed, which utilizes a Euro-style, push-on coupling. The ZVG2 retains its feeling of solidity with the utmost safety while offering low-weight and simple one-handed operation, as well as a significant reduction in emissions.
Elafelx has captured the European market with thousands of ZVG2 nozzles currently in operation based on their high performance and low total cost of lifetime ownership, as well as little maintenance requirements.
"There has been a recent industry push to standardize use of the Euro-style nozzle for autogas refueling in the United States based on its lower emissions and ease of refueling. We are excited to add the ZVG2 to our list of UL-approved available options," said Curtis Donaldson, founder and managing partner of CleanFUEL USA. "Many of our largest customers are utilizing the nozzles, and are thrilled with the performance and simplicity."
The Elaflex announcement today follows CleanFUEL's recent National Type Evaluation Program (NTEP) Certificate of Conformance certification from the National Conference on Weights and Measures for its entire line of propane autogas dispensers. The certification ensures that the dispensers meet the required technical standards for weighing and measuring, and indicates that they meet applicable requirements of the U.S Department of Commerce's National Institute of Standards and Technology Handbook 44.
NPGA Southeastern Convention and International Expo – Booth #516 (Expo Floor) and #246 (Autogas Pavilion):
CleanFUEL USA will showcase three dispensers, a P7000 series and P2000 series, in booth #516 and a P6000 series in booth #246, at the National Propane Gas Association Southeastern Convention and International Expo in Atlanta, GA, from April 11-13, 2015.
CleanFUEL USA will also showcase the new Elaflex ZVG2 Euro nozzle, along with the company's eCONNECT software technology at the show. As well, the company will spotlight the Endress+Hauser Mass Flow Meter, newly embedded card reader and printer, and fuel inventory tracking capability.
Additional exhibits featuring CleanFUEL USA dispensers include Ray Murray Inc. (booth #144) and Trinity Containers (at the entrance of the all new Autgas Pavilion). Freightliner Custom Chassis (booth # T-1552), Mississippi Tank Company (booth #T-1301), IPS Equipment (booth #T-236) and White River Distributors (booth #T-1106) will all feature S2G medium duty trucks equipped with CleanFUEL USA's Liquid Propane Injection (LPI) system.
About CleanFUEL USA:
CleanFUEL USA®, the nation's first developer of liquid propane fuel injection systems, is a leading manufacturer of propane autogas dispensers and refueling infrastructure. Headquartered in Georgetown, Texas, with an engineering division in Wixom, Mich., CleanFUEL USA celebrates more than 20 years of innovation. Setting industry standards with a complete alternative fuel solution, CleanFUEL USA products offer unsurpassed economic and environmental advantages. Learn more at http://www.cleanfuelusa.com.
Connect on Twitter (@CleanFUELUSA), Facebook (facebook.com/CleanFUELUSA), YouTube (youtube.com/CleanFuelUSA1) and LinkedIn (linkedin.com/company/cleanfuel-usa).