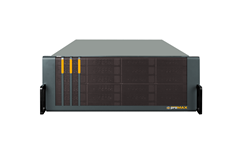 Yet more importantly, the Nearline system is fully integrated into our workflow server model and allows companies to offload CPU intensive work like proxy generation, rendering and provides simple data management capabilities like backup and replication
(PRWEB) April 09, 2015
(April 9th, 2015; Santa Ana, CA) ProMAX Systems, the manufacturer of Platform workflow servers, high-performance ONE editing workstations, and network archive appliances has released a new Platform workflow server that expands the storage capacity per server to 288 raw Terabytes and a server node to 864 raw Terabytes.
"ProMAX is committed to innovation and staying abreast of technology improvements. Our new Platform Nearline product now allows us to pack just under a Petabyte of space in 12 rack units. And we have worked hard on making it affordable as well with the MSRP under $45,000 USD." summarizes Jess Hartmann, ProMAX CEO. "Yet more importantly, the Nearline system is fully integrated into our workflow server model and allows companies to offload CPU intensive work like proxy generation, rendering and provides simple data management capabilities like backup and replication, all built into our browser based interface".
The Platform Nearline was designed as the perfect companion product to ProMAX Platform Online workflow servers. Managed to together through a simple to use browser interface, users can online and offline projects from and to the Nearline system with a simple click request. Using the built in proxy generation capability, companies can push finished projects to the Nearline system and automatically generate finished proxies for the completed footage.
About ProMAX Systems:
ProMAX develops and manufactures award-winning workflow servers, storage systems, high-performance workstations and archive appliances for professional content creators around the world. The ProMAX Platform is a unique shared storage system designed to increase efficiency and improve the content creation process by managing multiple production processes such as transcoding, rendering, asset management, and archiving. Platform embraces an elegant user interface, powerful media asset management, transcoding, rendering and archive to enable highly connected workflows and deliver a superior collaborative production experience for video workgroups. ProMAX products are available through a worldwide channel of reseller partners and distributors. For more information, visit http://www.promax.com, follow @ProMAX Systems on Twitter, Facebook, and see more ProMAX happenings on Facebook and YouTube.
Media Contact: Nate Cooper
Nate.Cooper(at)Promax(dot)com
(949) 861-2725
###