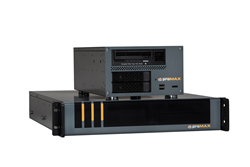 Santa Ana, CA (PRWEB) April 09, 2015
ProMAX Systems, the manufacturer of Platform workflow servers, high-performance ONE editing workstations, and network archive appliances will be demonstrating the Platform Portable mobile workflow server as well as the next generation of Pro-Cache and Power-Cache network archive appliances at the NAB Show in Las Vegas, April 13th- 16th.
Platform Portable NAB Debut
Initially announced at IBC in Amsterdam 2014, Platform Portable distinctively allows creative groups to connect their existing locally attached storage devices and transform them into a simple, yet sophisticated shared editing environment. ProMAX has established an entirely new product category with the Platform Portable that turns existing drives into shared storage and accelerates the efficiency of video production and post-production workflows both in studio and on location.
Platform Portable is cross-platform compatible (OSX, Windows, Linux) and supports all common attached storage interfaces including Thunderbolt, USB, FireWire, SAS and eSATA. Portable also reads all common file systems including, HFS+, FAT32 and NTFS. Platform Portable can connect clients up to 5 x 1GbE or 2 x 10GbE ports, copper or fiber. Storage expansion ports include 2 x Thunderbolt 2.0, 8 x USB 3.0, 4 x USB 2.0, 2 x FireWire 800, 1 x FireWire 400, 2 x eSATA and an optional SAS controller.
"Platform Portable enables workgroups to share any content, from any device, in any format, with any user in the group, anywhere they choose to take it," summarizes Jess
Hartmann, ProMAX CEO. He adds, "We have had an overwhelming response from the community about this product and are excited about what it offers our clients."
As the most affordable shared storage solution for smaller video workgroups, Platform Portable offers an accessible "bridge" in moving from attached storage into more robust shared workflows. Portable can be configured with an optional, built-in 2TB SSD storage module featuring 2 x 1TB drives in RAID-0 for fast access to media, and supports up to 20 simultaneous ProRes streams. The Portable base configuration has an MSRP of around $5,995, before options for expanded network connectivity, transcoding, or onboard storage are added and there are no per seat licensing costs. Portable is available in X and Y models with the more powerful Y model featuring an onboard transcode engine with proxy generation to further increase the efficiency of digital workflows.
Platform Portable will be featured at NAB and demonstrated at the ProMAX Booth, SL5821 and utilizing Thunderbolt connectivity at our partner G-Tech at booth SL12705.
New Archiving Appliances
Since acquiring Cache-A Corporation in July of 2014, ProMAX has taken its first step in releasing a significant update to its archiving appliance lineup. The New ProMAX Pro-Cache and Power-Cache products have been completely redesigned from the ground up to significantly improve the speed and reliability of archiving to LTO Tape. These new Appliances will be are currently shipping and will be on display at the ProMAX Booth.
The New ProMAX Pro-Cache features a Quad Core CPU with Turbo Boost to 3.1 Ghz to increase system speed and responsiveness. A new dedicated PCI SSD system disk provides reliability and a massive performance boost to OS and archive database operations (up to 4x faster than previous systems). The Pro-Cache's expanded network connectivity includes 4 x 1GbE network controllers accompanied by a 10GbE network performance boost that makes it up to 2x faster than previous systems. The redesigned chassis is more robust and serviceable and features an all new component cooling system to complement the appliance's upgraded power supply.
The New ProMAX Power-Cache also features a Quad Core CPU with Turbo Boost to 3.1Ghz, and the addition of a dedicated PCI SSD system disk, and performance boost to OS and archive database operations to amplify the appliance's speed, performance and reliability. And the 10GbE network performance boost will also make the new Power-Cache up to 2x faster than previous systems. The Power-Cache has its own all new 2RU rack mount chassis, which has been designed as an enterprise class device and features a new cooling system, upgraded component cabling and dual redundant power supplies. The system's onboard RAID is now up to 16TB with room for an optional onboard LTO6 or LTO5 drive.
About ProMAX Systems:
ProMAX develops and manufactures award-winning workflow servers, storage systems, high-performance workstations and archive appliances for professional content creators around the world. The ProMAX Platform is a unique shared storage system designed to increase efficiency and improve the content creation process by managing multiple production processes such as transcoding, rendering, asset management, and archiving. Platform embraces an elegant user interface, powerful media asset management, transcoding, rendering and archive to enable highly connected workflows and deliver a superior collaborative production experience for video workgroups. ProMAX products are available through a worldwide channel of reseller partners and distributors. For more information, visit http://www.promax.com, follow @ProMAX Systems on Twitter, Facebook, and see more ProMAX happenings on Facebook and YouTube.
Media Contact: Nate Cooper
Nate.Cooper(at)Promax(dot)com
(949) 861-2725
PROMAX at NAB 2015
BOOTH: SL5821
###