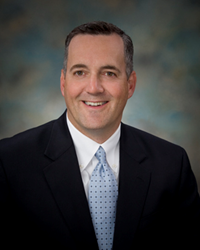 Mark's appointment will help us build on our forward momentum and sustain our rapid growth.
Greenfield, Ind. (PRWEB) April 10, 2015
Modernfold, Inc. today announced the appointment of Mark Blanchard as Director of Business Development. Relying on more than a decade of experience leading a global operable-wall sales operation, Blanchard will serve Modernfold, Inc.'s distributors and customers and expand its sales network from the company's Greenfield, Ind. office. He will report to the Director of Sales and Marketing, Mike Nielsen.
Blanchard has held sales leadership positions for more than 25 years. Most recently, he led global sales efforts for Hufcor, Inc. as Vice President of Sales. Throughout his career, Blanchard has worked extensively with operable-wall distributors globally, executing successful sales channel strategies.
"Modernfold has experienced explosive growth since launching Acousti-Seal® Encore® two years ago," Nielsen said. "Mark's appointment will help us build on this forward momentum and enable Modernfold to sustain our rapid growth with the best distribution partners in all markets."
"I'm honored that Modernfold has brought me on board to help lead them into this next chapter," Blanchard said. "Modernfold is an industry leading brand with so much history and innovation – it's great to be a part of a truly cohesive team where the focus is clear and the possibilities are endless."
About Modernfold
2015 marks Modernfold's 90th anniversary as the premier provider of products that enable optimal space utilization. Whether the primary requirement is acoustical control, versatile space management, energy savings, or daylighting, Modernfold's innovative product solutions assist and facilitate building management. Beginning in 1925, the company helped invent the moveable wall industry. Its current product line continues that leadership. In a wide range of installations, outstanding, highly flexible results are provided by Modernfold Operable Partitions, Moveable Glass Walls, acoustically rated MOVEO® Glass Wall systems (combining transparency with exceptional acoustic performance), Accordion Doors and more. Modernfold is a DORMA Group Company.