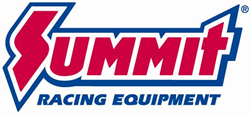 Tallamdge, OH (PRWEB) April 17, 2015
Designed to handle the output of high-powered race engines, Motive Gear Ring and Pinion Sets are a stout upgrade for any performance car or dedicated off-roader. Each Motive Gear ring and pinion set is made with high-quality materials, using a state-of-the art manufacturing process to deliver unmatched reliability.
Summit Racing offers almost 300 Motive Gear Ring and Pinion Gear Sets in many ratios to fit virtually every common axle, including popular Ford, GM, Chrysler, Dana, Toyota and AMC rear ends. Drag racers can also get Motive Gear Pro gear sets that are both stronger and lighter than the standard gear sets.
Summit Racing also carriers Motive Gear Installation Kits to help complete the gear swap. Each installation kit comes with the proper shims, hardware, and bearings for the specified axle model. Installation kits for over 350 other applications are available.
Summit Racing Equipment
http://www.SummitRacing.com
1-800-230-3030