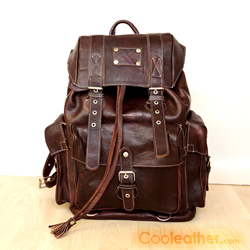 I absolutely love the backpack and I am totally impressed with the high quality of Cooleather'shand craftsmanship
Toronto, Canada (PRWEB) April 13, 2015
Cooleather.com, a nationwide provider of handmade genuine leather products, announced the debut of their new extra-large, multi-purpose and durable cowhide travel knapsack. A uniquely handmade designed travel backpack, created through innovation and collective feedback based on their customers' needs, this new knapsack is perfect for all savvy or novice hikers and travelers.
"I absolutely love the backpack and I am totally impressed with the high quality of Cooleather's hand craftsmanship," said Arthur Wilson, a valued Cooleather.com customer who worked closely with Cooleather designers to make his dream backpack a reality. "This pack will age gracefully with me on my many travels, through airports as carry-on luggage, day excursions at ports of call and for those weekend warrior getaways."
This new multi-purpose extra-large backpack features high quality soft leather, a contoured lid with a hidden inside zippered pockets for additional security for important documents, extra straps/loops, extra D rings to hang items, leather drawstring with tassels, extra tightening belt for main compartment, real buckle straps to secure the lid and all pockets, oversized zippered pockets with protective hoods, and a large flat pocket for magazines or maps with easy access. This amazing travel bag is a must-have during your travels, hiking, and camping.
"We make all of our products with our customer in mind and also provide custom products made to order to their needs and specifications," says Nabil Orfali, Founder and CEO of Cooleather.com.
Cooleather.com also offers free express worldwide shipping for this bag that can be purchased on their site. To purchase this new product and to learn more about Cooleather products, visit https://www.cooleather.com.
Cooleather, founded on a day like today - April 13th, 2012 and headquartered in Toronto, Canada, provides handcrafted and innovative quality leather products. The Cooleather team consists of a group of Canadian artisans with a passion for handmade genuine leather design with over 20 years of design and craftsmanship experience combined. Their customer-centric driven company provides consumers with high end genuine leather products at affordable prices.