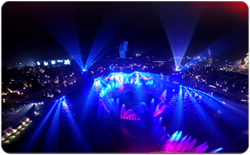 Chimelong Ocean Kingdom is a world-class amusement park and we are honored to be given the opportunity to be involved in this permanent installation at the iconic whale shark sculpture,
Beijing, China (PRWEB) April 12, 2015
Christie® and its Chinese partner, Wincomn Technology, joined hands to present an impressive permanent projection mapping display on a gigantic whale shark sculpture, which is part of a large-scale show titled "Glamorous Sky Over Hengqin," featuring spectacular lighting, audio, video, firework and stunt performances at Chimelong Ocean Kingdom.
Located at Chimelong International Ocean Resort in Hengqin, Zhuhai, Chimelong Ocean Kingdom features one of the world's largest aquariums, allowing guests to view rare sea creatures such as whale sharks, beluga whales and polar bears up close. Owned and operated by Guangdong Chimelong Group, the theme park opened early last year and is divided into eight themed areas, each representing a part of the ocean. One of the most popular attractions is the highly entertaining "Glamorous Sky Over Hengqin" show, playing nightly to packed crowds.
Photo courtesy of Wincomm Technology
Combining Christie and Wincomn technology, the impressive projection mapping display is presented on the façade of the 66-meter high whale shark sculpture housing the whale shark aquarium – the most recognizable landmark of Chimelong Ocean Kingdom. Realistic visuals depicting vibrant marine life are projected on the whale shark's body and fins in tandem with the large-scale performance, which uses water jets, laser lighting, fireworks and musical effects for an unprecedented visual feast.
Eight Christie Roadie HD+35K and two Christie Roadster HD20K-J featuring blending and warping capabilities have been installed in two projection towers located approximately 130 meters from the sculpture. Known for their ruggedness, superior performance and quality Xenon illumination, they are ideal for the rigorous demands of outdoor projection.
The Roadie HD+35K are positioned in portrait mode, covering the entire length of the sculpture with a total projected area of 23.4 meters by 42.5 meters while the Roadster HD20K-J are projecting visuals on both fins of the whale shark sculpture, one on each side. The total projected area of each fin measures 7.0 meters by 12.4 meters.
Every evening at 8:00 p.m., audiences are enthralled by the mesmerizing visuals on the whale shark sculpture as the sky lights up with dazzling fireworks and the musical fountain dances in rhythm to passionate beats while stuntmen accomplish daring feats. The extravaganza earned the Best International Achievement in Events at the Australian Event Awards.
Photo courtesy of Wincomm Technology
"Chimelong Ocean Kingdom is a world-class amusement park and we are honored to be given the opportunity to be involved in this permanent installation at the iconic whale shark sculpture," said Tony Chen, general manager, Wincomn Technology. "We have worked closely with Christie throughout the installation process and are very pleased with the results. The Christie Roadie HD+35K and Roadster HD20K-J projectors produced stunning visuals and they perfectly complement the "Glamorous Sky Over Hengqin" show. I'm sure visitors will have a blast watching this nightly performance."
Lin Yu, vice president, Christie Asia Pacific, added, "Projection technology has continued to play an important role in China's cultural and entertainment arenas, with more owners of these entities placing greater emphasis on the installation of projection solutions. As a world leader in visual technologies, Christie's advanced solutions are used at an increasing number of such locations in China, such as Wuxi Studio and Wanda Movie Park in Wuhan. With the themed entertainment market poised for further growth, we'll continue to put our energies in technology and product development to offer more exciting projection mapping performances for the Chinese audience."
About Christie
Christie Digital Systems USA, Inc. is a global visual technologies company and is a wholly-owned subsidiary of Ushio, Inc., Japan. Consistently setting the standards by being the first to market some of the world's most advanced projectors and complete system displays, Christie is recognized as one of the most innovative visual technology companies in the world. From retail displays to Hollywood, mission critical command centers to classrooms and training simulators, Christie display solutions and projectors capture the attention of audiences around the world with dynamic and stunning images. Visit http://www.christiedigital.com.
Follow Christie:
Facebook.com/christiedigital
Twitter.com/christiedigital
Christie® is a trademark of Christie Digital Systems USA, Inc., registered in the United States of America and certain other countries.
DLP® is a registered trademark of Texas Instruments.