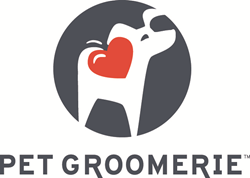 Not only does Pet Groomerie love supporting the Peggy Adams Animal Rescue League, but we've designed our brand Scenthound (essential care services) to be accessible and affordable to every dog parent who passes through their doors." - Tim Vogel
West Palm Beach, Florida (PRWEB) May 07, 2015
Pet Groomerie, a local dog-care company, is proud to announce that it has donated over $45,000 in monetary donations and services to the Peggy Adams Animal Rescue League (PAARL) and its adoptees. Pet Groomerie's mission is to provide regular and affordable preventive care to every dog in America. The company started its initiative by providing free care to dogs adopted at shelters like PAARL.
Pet Groomerie, with salons in Jupiter and West Palm Beach and four mobile units, is providing a free Essential Care Pack (valued at $35) to every dog adopted from PAARL. The package includes a conditioning bath, nail-trimming, ear-cleaning, and teeth-brushing. Dubbed the CleanStart™ program, this service introduces new dog owners to the essential care that dogs need in order to maintain their health and well-being. Pet Groomerie believes that regular care and owner education can prevent a host of serious health issues, ultimately helping to keep adopted dogs in their new homes and out of shelters.
"Peggy Adams Animal Rescue League does incredible work," stated Tim Vogel, Founder of Pet Groomerie. "We share a passion for animal advocacy and educating dog parents on providing the best care for their dogs, so our partnership feels natural. Not only do we love supporting the League, but we've designed our brand Scenthound (essential care services) to be accessible and affordable to every dog parent who passes through their doors."
Every year 1.4 million dogs are adopted from rescues, but 3.9 million are surrendered or abandoned, often because of preventable health problems or lack of access to affordable regular care. With regular care, Pet Groomerie and dog owners are able to keep tabs on a dog's health and either prevent health issues (such as infections, periodontal disease, even skeletal damage) or address them before they become serious. Pet Groomerie plans to expand its CleanStart™ program in the coming months and to continue its philanthropic projects as an expression of its commitment to dogs' welfare.
According to Rich Anderson, PAARL CEO, "Pet Groomerie addresses one of the biggest problems rescue leagues face, which is the need for ongoing education so that pet owners understand how to best take care of their adopted dogs. We're so grateful not only for their generous financial support, but for Pet Groomerie's commitment to dogs and their long-term well-being."
In addition to providing a free Essential Care Pack for every dog adopted from the League, Pet Groomerie participates in fundraising events such as Paws in the Park, Peggy Adams Animal Rescue League's Walk for the Animals, and the Blessing of the Pets. They also provide Essential Care services on-site once a month, with a portion of the proceeds going right back to the League.
About Pet Groomerie:
Founded in Jupiter, FL in 2005, Pet Groomerie's mission is to provide essential care and monthly maintenance to every dog in America. This kind of regular care is critical to a dog's well-being: it can prevent a host of health issues and even extend a dog's life by several years. Pet Groomerie offers dog owners a fast, affordable, convenient way to care for their dogs; their signature Essential Care Pack includes a conditioning bath, nail-trimming, teeth-brushing, and ear-cleaning.