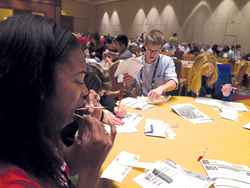 Our efforts could have a global impact, and more lives all over the world could be saved.
San Antonio, Texas (PRWEB) April 13, 2015
GenCure tapped into the energy of hundreds of students and professionals gathered in the Alamo City for the annual Association of College Unions International (ACUI) conference. The goal was to educate domestic and international students and staff about the importance of becoming marrow donors.
More than 300 U.S. and international students and professionals volunteered their time Saturday, April 11, to learn about how marrow donors are saving lives. They assembled 6,500 marrow donor registration kits for GenCure Cellular Therapy Center.
"One of ACUI's goals is to enrich students through advocacy, so it made sense to partner with GenCure who regularly advocates for more marrow donors," said Marsha Herman-Betzen, executive director/CEO of ACUI. "Students and staff at the conference left more aware of the need for donors and also learned what it takes to add people to this lifesaving registry."
Today, more than 25 million people globally are registered to donate their bone marrow and potentially help patients suffering from diseases such as leukemia and other blood disorders. However, the need remains to diversify the registries with people of different racial backgrounds. GenCure encourages all community members, especially those of minority or mixed race, to join the registry.
When someone is asked to join the Be The Match Registry®, they're provided a preassembled kit complete with required paperwork and four swabs, all labeled with a matching barcode. The advantage to having these kits preassembled is that it makes registering much easier and quicker - about 10 minutes - for the registrant.
"Normally, the GenCure staff makes each kit before they go to a registration event," said Yvonne Ybarra, director of GenCure Cellular Therapy Center. "So not only is this group educated on what marrow donations are and how they can save lives, but their work at this event is instrumental in helping GenCure carry out its mission."
With 300 students and professionals working together, their efforts condensed about 325 hours of work into one hour. Additionally, students and staff from the U.S. who volunteered had the opportunity to join the national registry, while GenCure representatives directed international students to their respective marrow registries.
"As an organization that values service and learning outside the classroom as part of a well-rounded college experience, it made sense to educate our conference attendees about this global concern so they can then be advocates back on campus," said Herman-Betzen. "Our efforts could have a global impact, and more lives all over the world could be saved."
For more information about becoming a marrow donor, visit http://gencure.org/.
About GenCure: GenCure, a Texas nonprofit corporation, focuses on regenerative medicine and uses the power of human cells and tissues to inspire hope, enhance lives and enable clinical advancements. Using processed tissue and cell-based therapies, GenCure works to connect health care requirements with innovative solutions that best serve the needs of the global patient community. Visit us at http://gencure.org/.
About BioBridge Global: BioBridge Global (BBG) is a San Antonio, Texas-based nonprofit corporation that offers diverse services through its subsidiaries – the South Texas Blood & Tissue Center, QualTex Laboratories, GenCure and the Blood & Tissue Center Foundation. BBG provides products and services in blood resource management, cellular therapy, donated umbilical cord blood and human tissue as well as testing of blood, plasma and tissue products for clients in the United States and worldwide. BBG is rooted in the South Texas Blood & Tissue Center, which has a proud history of serving the South Texas region and beyond for more than 40 years. BBG is committed to supporting groundbreaking research, addressing unmet clinical needs and enabling the development and commercialization of novel biotechnology products. Visit us at http://www.biobridgeglobal.org.
About ACUI: Founded in 1914, ACUI is a nonprofit educational organization that brings together college union and student activities professionals from hundreds of schools in seven countries. Its members work on urban and rural campuses, in two-year and four-year institutions, and at large and small schools. They are students and administrators whose mission is to build campus community. ACUI enriches them all through education, advocacy, and the delivery of services.