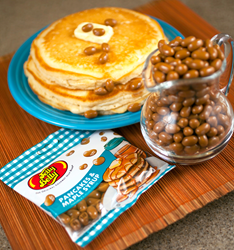 FAIRFIELD, CALIF. (PRWEB) April 13, 2015
Wake up and smell the pancakes with Pancakes & Maple Syrup Jelly Belly® jelly beans. The newest flavor from Jelly Belly Candy Company captures the warm, buttery flavor of a pancake topped with rich maple syrup whipped together in a single Jelly Belly jelly bean.
Jelly Belly flavor experts recommend fans combine the Pancake & Maple Syrup Jelly Belly bean with other flavors to create Jelly Belly pancake recipes such as:
1 Pancakes & Maple Syrup + 1 Strawberry Jam = Strawberry Pancakes
1 Pancakes & Maple Syrup + 1 Blueberry = Blueberry Pancakes
1 Pancakes & Maple Syrup + 1 Champagne + 3 Orange = Brunch
Pancakes & Maple Syrup Jelly Belly beans can be found online at JellyBelly.com and Jelly Belly-owned stores. Shipping nationwide now.
In celebration of National Jelly Bean Day and this new flavor launch, Jelly Belly will hold a pancake breakfast at its California tour center on April 22 (7 a.m. – 10 a.m.) with proceeds benefitting the Napa Valley Tour de Cure, a cycling event for the American Diabetes Association.
Jelly Belly beans contain four calories per bean and are fat free, peanut free, dairy free, gluten free, vegetarian and OU Kosher certified. For information, visit http://www.jellybelly.com or call (800) 522-3267. Retailers may contact Customer Service at (800) 323-9380. Connect with us on Facebook, YouTube, Pinterest and Instagram.