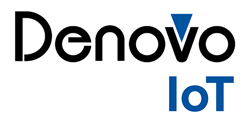 "Denovo will continue to be a market leader providing enterprise class on-premise and cloud services to our Oracle's JD Edwards customers and the SME market," said Marty Snella, Denovo's Chief Executive Officer.
Las Vegas, NV (PRWEB) April 13, 2015
Denovo's new IoT and Wearable Solutions are cost-effective offerings that can offer customers greater agility to dynamically grow and transform their businesses. These latest solutions demonstrate the company's continued success with JD Edwards EnterpriseOne. Denovo was among the first to offer JD Edwards in its private cloud and on Amazon's AWS public cloud. Denovo Labs has now collaborated with JD Edwards Labs on innovative IoT and Wearable Solutions to JD Edwards customers.
Denovo's IoT solutions include partnerships with device manufacturers and software vendors that enable access to emerging capabilities. IoT solutions include asset tracking, maintenance program improvement, operational performance monitoring, retail management and other solutions that apply across industries such as agribusiness, manufacturing, distribution, real estate management and more. Denovo is helping pave the way for companies to identify IoT use cases, design, implement and manage solutions including sensor networks, data gateways, real time event processing engines and Enterprise Resource Planning (ERP).
Denovo will be at COLLABORATE 15 to demonstrate the applicability of IoT and wearables in the context of JD Edwards and Oracle ERP. This is an opportunity for business leaders to learn about the components and use cases of IoT and what rewards can be had through reduced cost and increased efficiency. Combining business processes with advanced data collection and analysis tools provided in IoT solutions is a key tactic to gaining the most value from ERP investments.
"We will continue to provide customers with a broad choice in service and solution offerings that help build their organizations for long term performance while aiming to increase the benefits they receive from their Oracle's JD Edwards investment," said, Mark Goedde President of Denovo. "Our IoT and Wearable Solutions provides yet another choice for our customers that will help them maintain their competitive edge and improve their bottom line."
"Denovo will continue to be a market leader providing enterprise class on-premise and cloud services to our Oracle's JD Edwards customers and the SME market," said Marty Snella, Chief Executive Officer. "More importantly, as trusted advisors to our customers, we will continue to bring solutions such as IoT, Wearables and Mobility to help extend the JD Edwards applications from the back office to the core processes of their business."
About Denovo
Denovo today is a multifaceted consulting and technology services firm positioned to offer our clients a full-spectrum of services whether it is on premise consulting for their ERP applications or hosting their applications in Denovo's Private Cloud Infrastructure. Denovo has extensive industry expertise in Delivering Hosting and Managed Services - Through our Private and Public Cloud Infrastructure and Worldwide Service Desk offerings.
As a Platinum level member of Oracle PartnerNetwork, Denovo's Consulting team has over 150 years of Oracle's JD Edwards and ERP experience and has successfully completed Oracle ERP implementation projects for a wide variety of commercial and public sector clients. The company is headquartered in Niwot, Colorado in the Denver-Boulder technology corridor and serves a worldwide client base from its East, Central, and West regional offices. Visit http://www.denovo-us.com for additional information.
About Oracle PartnerNetwork Oracle PartnerNetwork (OPN) Specialized is the latest version of Oracle's partner program that provides partners with tools to better develop, sell and implement Oracle solutions. OPN Specialized offers resources to train and support specialized knowledge of Oracle products and solutions and has evolved to recognize Oracle's growing product portfolio, partner base and business opportunity. Key to the latest enhancements to OPN is the ability for partners to differentiate through Specializations. Specializations are achieved through competency development, business results, expertise and proven success. To find out more visit http://www.oracle.com/partners
Trademarks
Oracle and Java are registered trademarks of Oracle and/or its affiliates.
Other names may be trademarks of their respective owners.