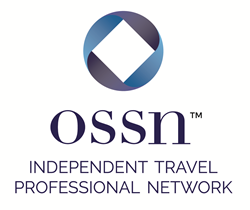 As OSSN continues to expand, we remain committed to providing independent travel professionals with the latest industry tools and training to make them more successful, competitive, and profitable
Fort Worth, TX (PRWEB) April 14, 2015
OSSN– the premier industry trade association dedicated to serving the needs of independent travel professionals and travel agencies throughout North America – is now providing an intensive marketing tools training program to help educate its increasing number of OSSN Chapter Directors.
The valuable training program will also be offered as an additional benefit to all registered OSSN travel agent members beginning in May 2015. Provided online and on a complimentary basis for chapter directors and members, the training programs are led by the highly experienced travel professional Margie Jordan, CEO of Jordan Executive Travel. The weekly webinars will train OSSN travel professionals to use the latest online tools, social media platforms and marketing programs including MailChimp, Eventbrite and more, to communicate more effectively in the online travel marketplace and advance their businesses.
"We launched this addition to our robust training program to further support our increasing number of OSSN Chapters and Chapter Directors who expressed interest in learning new ways to facilitate more online communication and engagement amongst their active OSSN chapter members," said Dic Marxen, President and CEO of CCRA. "We were thrilled to have aligned ourselves with Margie Jordan, who has been extremely well received by our Chapter Directors for providing her first-hand knowledge and easy, step-by-step training instructions during these training Webinars, that encourage even more communication and collaboration between our growing number of travel agent members. As OSSN continues to expand, we remain committed to providing independent travel professionals with the latest industry tools and training to make them more successful, competitive, and profitable."
Over the past six months OSSN has welcomed 5 new Chapter Directors, unveiled a brand new Northern New Jersey Chapter, and is currently in the process of setting up 10 new chapters that will continue to expand OSSN's presence across the U.S. throughout 2015. Many of OSSN's existing chapters are experiencing growth by offering new meeting formats, more frequent supplier engagements and additional social networking opportunities amongst new and existing travel agent members. In 2015, several chapters have already experienced record attendance at their local area meetings and those numbers are expected to rise as OSSN Chapter Directors utilize the new communication and event planning tools from OSSN's technology training sessions. For example, in early April a record number of 95 travel agents attended the OSSN Chapter Meeting in Cherry Hill, NJ with AMResorts. OSSN's Southern Louisiana Chapter has also experienced recent growth over the past few months, and has welcomed many new travel agents and independent travel professionals to its meetings:
"My Southern Louisiana chapter has experienced some pretty amazing growth over the past few months – and has welcomed several new travel agents as well as many agents who have chosen to branch out and build their own businesses as independent travel professionals," said Ramona Tauzin, OSSN Chapter Director Southern Louisiana. "The new members that have been coming to our meetings are bringing a lot of new and exciting ideas to our discussions on how we can increase our engagement with local suppliers. I look forward to further supporting the new and seasoned travel professionals in our growing chapter, by increasing our member engagement and online communication capabilities by participating in the new technology training sessions that are now being offered for OSSN Chapter Directors."
Since OSSN became a wholly owned subsidiary of CCRA in early 2014, the industry trade association has experienced more than a 20 percent increase in travel agent member renewals and new member registrations compared to 2013. In addition to OSSN's increasing membership, there have also been a growing number of OSSN members who have obtained their own TRUE codes and are utilizing CCRA's array of products and services for independent travel professionals, including CCRA's commissionable online hotel and air reservation portals. OSSN has recently unveiled its new branding, including a new logo, an enhanced social media presence, and will soon be unveiling its website re-launch scheduled to go live this summer. Now, OSSN is focused on expanding its Chapter Director training support and member offerings, through this enhancement to their training program led by travel and marketing industry pro, Margie Jordan.
"When OSSN and CCRA approached me with this opportunity to help fellow independent travel professionals enhance their online marketing skills, I was delighted to be a part of this new online technology training program for OSSN members," said Margie Jordan, CEO of Jordan Executive Travel. "With a background in marketing and creative design, I have combined my passion for marketing and travel to grow my independent travel business and, via this new training program, I will share that insight with other travel professionals. I know first-hand how important it is for travel professionals to remain up-to-date with their online communication and digital marketing skills in order to stay competitive and relevant in engaging with today's tech-savvy online consumers. I look forward to continuing to share this valuable knowledge as I help OSSN members learn to use some of the most current marketing programs available that are essential to my continued success as an independent travel agency owner in today's digital world."
With over 15 years of marketing and creative design experience, Margie is the founder and owner of Jordan Executive Travel. She earned her Certified Travel Associate (CTA) designation from The Travel Institute as well as several Destination Specialist (DS) designations. Margie and her agency have been featured in USA Today, Wall Street Journal, numerous Reuter's news stories, Smart Money Magazine, the Chicago Tribune and The Miami Herald to name a few. Having always had a desire to share her knowledge with others, Margie taught a 6-week training class at Florida State College for people interested in a career in the travel industry.
OSSN is delighted to officially welcome the following five new OSSN Chapter Directors, as well as its newest Chapter based in Northern New Jersey:

LaTrayer Sumter-Moreau – North New Jersey
Kim Medelberg – Wisconsin and Iowa
Maryellen Yeager – Rhode Island
Monique FitzPatrick – Orlando, FL
Anne Smith – Baltimore, MD
For a complete list of the current OSSN Chapter Directors, please visit: https://www.ossn.com/chapters.asp. Independent travel professionals interested in starting up a new OSSN chapter will receive a high level of support, training and guidance to ensure that their chapter is kept up-to-date with the latest trends in travel and technology. OSSN is also currently looking to fill Chapter Director positions in several new markets with a large membership base. Interested travel professionals are encouraged to send an email requesting more information to info(at)ossn(dot)com.
OSSN is currently offering a special promotion for travel agencies who are interested in becoming OSSN members and receiving a TRUE code. Travel agencies can now apply for their own TRUE code for the discounted price of $279, which offers a $25 savings and includes a full agency membership with OSSN. For more information on this limited-time offer, visit: http://www.checkatruecode.com/specialoffer.
ABOUT OSSN
Founded in 1990, OSSN is the largest travel industry trade association in North America dedicated to serving the needs of home-based travel agents and agencies, host agency partners, and allied supplier members representing more than 8,200 agents, and allied suppliers worldwide. OSSN presently has more than 70 active OSSN chapters throughout the United States and 160 Allied Member Suppliers. Visit http://www.ossn.com or call 800 771 7327 for more information.
ABOUT CCRA
Based in Ft. Worth, Texas, CCRA Travel Commerce Network is a global hub for travel technology, marketing, accreditation and education. For over 40 years, CCRA has connected travel professionals and suppliers with the products and services they need to drive revenue, relationships and brand recognition in the travel marketplace. From the TRUE accreditation and coding system to hotels, air, call center services and more, CCRA is truly where the travel industry connects. For more information, visit http://www.ccra.com.