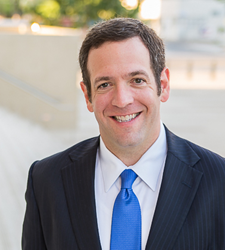 By offering this scholarship, Loewy wants to further the "…aspirations of any future lawyer who shares our passion for balance an
AUSTIN, TEXAS (PRWEB) April 14, 2015
The Loewy Law Firm serves as passionate advocates for the rights of those who have been harmed by others, championing justice for the struggling and disadvantaged. In an extension of those core values, the firm has introduced an annual $1,000 essay-based scholarship to benefit an aspiring law student who will, according to Loewy law firm's founder, Adam Loewy "…apply civil law to right injustice."
To be eligible to apply for the Passion for Civil Rights Scholarship, applicants must either be accepted to or currently enrolled in an accredited law school within the United States. The committee will also consider a student currently attending a college or university within the United States with the intention to go on to law school.
All applicants must maintain a minimum 3.2 GPA as evidenced by official transcripts. In addition, the essay submittal must address the applicant's opinion as to (1) the use of civil law to implement justice and check governmental power and how the effectiveness of that application compares to that of criminal prosecution or (2) which civil rights cases should have received national media attention but did not addressing the media's focus on only certain cases and whether or not that focus harms government-to-citizen relationships.
Loewy law firm's founder, Adam Loewy, is known in the Austin community to actively support numerous charities and non-profits. By offering this scholarship, Loewy wants to further the "…aspirations of any future lawyer who shares our passion for balance and equity."
The selection committee looks forward to reading the essays and awarding the scholarship to a high-achieving, passionate future legal scholar who holds dear and seeks to forward he belief in "…justice for all."
About The Loewy Law Firm:
The Loewy Law Firm is one of the most successful personal injury law firms in Texas. Led by nationally recognized personal injury attorney Adam Loewy, 100% of our practice is dedicated to helping injured Texans get their lives back on track after a traumatic injury or death of a loved one.
The Loewy Law Firm
111 Congress Avenue #400
Austin, TX 78701
(512) 280-0800