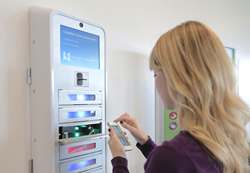 In this day and age a charged phone is an absolute must have in healthcare. Not only has Brightbox improved our patient and guest experience, it is also being used by our team members.
New York, NY (PRWEB) April 13, 2015
Brightbox, Inc. (http://www.brightboxcharge.com), the leading platform provider of secure mobile device recharging solutions, is pleased to announce that it is providing device recharging stations at the 20th Annual Healthcare Marketing & Physicians Strategies Summit 2015, at the Cosmopolitan of Las Vegas from April 13th to the 15th.
Brightbox, a New York based B2B kiosk technology company, is the global leader in developing and deploying secure charging locker stations for connected people with mobile devices, including cell phones, phablets, backup chargers and batteries. The Brightbox® Mark3 mobile charging platform is the most innovative and secure mobile device charging solution available in today's marketplace, and was recently selected as the "Best Digital Signage Kiosk Application" by rAVe [Publications], the leading expert magazine in audio visual reviews, at Digital Signage Expo 2015.
Brightbox secure recharging platform is an essential amenity for healthcare and many other verticals, because it directly addresses the "Power Gap", namely the growing divide between user reliance on mobile devices and the inherent limitations of mobile device battery life.
"In this day and age a charged phone is an absolute must have in healthcare. Not only has Brightbox improved our patient and guest experience, it is also being used by our team members," said Jenna Stallard, Customer Relations Manager at Orlando's Health Arnold Palmer Medical Center in Orlando Florida. "Brightbox as a company is extremely responsive and service-oriented, and is invested in our satisfaction and our needs."
The secure Brightbox recharging platform is available at the Healthcare Marketing & Physicians Strategies Summit, which is a unique opportunity for executives from healthcare marketing, strategy, and physician relations to come together to share "best practices" and network with colleagues. Designed for executives from hospitals, healthcare systems, academic medical centers, integrated networks, and medical group practices, it brings together healthcare Chief Marketing and Strategy Officers, Business Development and Planning Executives, Social Media Strategists, Physician Relations, Referral and Outreach Directors, and other Sales, Marketing, Public Relations and Advertising Executives.
Attendees can enjoy unlimited recharging sessions via Brightbox lockers available at the Healthcare Marketing Summit, and discover the messaging and marketing power and potential of the Brightbox® Mark3 charging station and brand messaging platform, while experiencing the delight of staying fully charged and engaged throughout the event. Executives can attend the seminars and workshops, network, take meetings and work, resting assured that their phones are being safely and optimally charged in a station that delivers both data privacy and physical security.
Brightbox provides mobile freedom, enabling patients, family, friends and staff in the healthcare industry, to live life charged and connected. It facilitates trust in public place amenity charging solutions, and provides a great product and experience that is a rich opportunity for engagement between connected people, spaces and brands. Smart phone users simply swipe a credit/debit or complimentary card to open an available station chamber, plug in their mobile device or accessory to one of three industry standard charging cords, close the chamber and return later to swipe the same card to retrieve their charged phone.
The ability to safely charge via Brightbox can improve the overall healthcare family and patient experience helping to competitively differentiate a venue. Healthcare consumers stay connected to family, friends, and healthcare and social apps, knowing they can securely charge their phones at any time. Brightbox charging is instrumental in satisfying patrons who might otherwise lose connection with family and friends, or doctors and clinicians, while also ensuring continued interaction with healthcare mobile applications. Healthcare professionals and patrons appreciate the stylish looks, the seamless user experience and the unrivalled security and sophistication of the Brightbox platform, which is increasingly favored by the healthcare industry to help improve consumer experience, and possibly boost Press Ganey scores, which account for an increasing proportion of Hospital Consumer of Healthcare Providers and Systems Surveys (HCAHPS).
Brightbox offers intelligent, encrypted recharging solutions that maintain data privacy and security via its highly secure and reliable platform. Brightbox never access sensitive healthcare data or connects directly to healthcare proprietary systems. The healthcare industry can choose how to project brand image or deliver information via an innovative menu of content and interactivity options. The Mark3 features a 10" interactive touch screen, with video and slide show capabilities that provide effective delivery of heathcare information, and direct facility messaging and surveys.
"Brightbox is the perfect fit for healthcare venues," said Peter Harrison, VP of Sales for Brightbox. "We offer a deeply valued amenity for your guests and patients to connect them with their loved ones while also offering an intimate platform to connect them with your brand. It's always a thrill to hear from our partners how much Brightbox is appreciated by people who really need it."
The Brightbox® Mark3 features a 10" interactive touch screen, customizable swipe cards and a strong brand-messaging platform. The UL and agency certified stations ensure the physical security and data integrity of phones being charged, are PCI compliant with a best-in-class encrypted card reader and meet the highest standards for safety and security. They offer retractable charging cables and chambers that can accommodate nearly any mobile device, including the latest phablets, while delivering the safest fast charge possible at optimized manufacturer recommended rates. No other charging kiosk company offers a similarly competitive, robust platform with such a range of security, engagement and interactivity features.
About Brightbox
Brightbox® is B2B kiosk technology solutions company providing global venues and users with the best-in-class secure mobile device and accessory charging platform for marketing, sponsorship and venue interaction. Founded in 2011 and based in New York City, Brightbox delivers intelligent and innovative charging solutions and has deployed 500 of its secure charging lockers in 4 countries and 22 states in a variety of event and vertical markets that include hospitality, entertainment, healthcare, retail, education, transport and government.
Event customers include AOL, AdWeek, American Airlines, BBC ComicCon, CEDIA, Citibank, Coca-Cola, Detroit Grand Prix, Discovery Channel, Event Tech, FISH, Gartner, GoPuck, HBO, IBM, IMEX, InCharged, Intel, Jack Morton, Major League Baseball, Minor League Baseball, NFL Experience, Pitney Bowes, Octagon SXSW, PCMA, Smart Source, So Cool Events, Societe Generale, UBS, Verizon, and Wells Fargo.
Enterprise customers include Dream, Hilton, Hyatt, Marriott, Omni, Sheraton, Caesars, MGM, Heineken, Christie's, Rite Aid, Toys'R'Us, Westfield Malls, New York Red Bulls, Tampa Bay Rays, Time Warner Cable, Universal Studios, Baystate Health, Hospital For Special Surgery, Mount Sinai Health, Orlando Health, Yale New Haven Health, American Airlines, British Airways, Columbia University, and BR CHARGE. Learn more at http://www.brightboxcharge.com and @brightboxcharge
About Healthcare Marketing and Physician Strategies Summit 2015
The Healthcare Marketing Summit is a unique opportunity for executives from healthcare marketing, strategy, and physician relations to come together to share "best practices" and network with colleagues. Designed for executives from hospitals, healthcare systems, academic medical centers, integrated networks, and medical group practices, it brings together top marketing and strategy professionals from the healthcare industry.
http://www.healthcarestrategy.com/conferences/2015/HMSS2015.asp