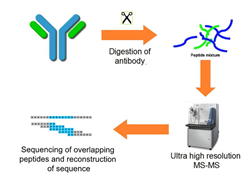 Creative Biolabs has overcome the current drawback of sequencing based on its cutting-edge antibody sequencing technology that has been tried and tested in many studies.
New York, USA (PRWEB) April 16, 2015
Creative Biolabs, a leading customer service company with extensive experience in numerous engineering and antibody production fields has proudly introduced a number of unmatched services for De Novo Sequencing. These innovative features were developed according to Creative Biolab's cutting-edge antibody sequencing opportunity, utilizing the Database Assisted Shotgun Sequence technology that has been tried and tested in previous studies.
Through extensive research, the company has discovered that all isotypes, allotypes and species of antibodies may be successfully sequenced through the De Novo method with 100% total coverage. As a result, a number of promising cases have emerged from the Creative Biolabs studies, allowing for a boast of complete satisfaction and 100% accuracy in all cases. According to the company itself:
"Creative Biolabs has overcome the current drawback of sequencing based on traditional methods"
The recently perfected system of Database Assisted Shotgun Sequence technology allows therapeutic, diagnostic and research-based industries to access the optimum tools for De Novo Antibody sequencing. The company service specifications include: Sequencing of the V and J and C segments by DASS, De Novo Sequencing of the CDR3 region, Isobaric amino acids, Sequencing of fluorochrome mABs, IgMs and other non-standard antibodies, and Validation of targeted Sequence.
With the use of the de Novo antibody sequencing method, Creative Biolabs has been able to offer customers a wide range of extensive and efficient services. The advanced technology allows for multivalent forms of monoclonal purified antibodies to be sequenced using 100% coverage within the precise, desired regions, leading to a higher degree of accuracy. What's more, the Creative Biolabs globally unrivalled DASS system offers overlying proof for QC analysis, the validation and confirmation of developed mAb, as well as the application of IND/NDA.
About Creative Biolabs:
Throughout the years, Creative Biolabs have established themselves as a significant force in the field of antibody production and engineering. Founded by scientists committed to the task of conquering cancer, their business model focuses on improving and enhancing the development of beneficial drugs and leveraging all accessible resources.
Creative Biolabs has a service portfolio which includes antibody production in rats and mice through the use of hybridoma technology, as well as rabbit, chicken, dog, camel, llama, monkey and human antibody production through the use of various antibody library technologies, including yeast display, bacterial display and phage display.
Creative Biolabs hope to change the world by fighting back against cancer and providing the much-needed research required to overcome such life-threatening illnesses. Drawing upon their expertise in antibody production and antibody manufacturing, their long-term goal is to deliver the highest quality of results in all areas of their field. For further information, please visit the website at: http://www.creative-biolabs.com.
Contact
Company: Creative Biolabs
Web: http://www.creative-biolabs.com/next-generation-antibody-sequencing.html
Email: contact(at)creative-biolabs(dot)com
Phone: 1-631-871-5806 or 44-207-048-3343