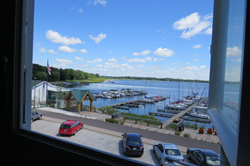 St Paul, MN (PRWEB) April 14, 2015
The first week of April 2015 marks the beginning of occupancy for The Boatworks Commons apartments in White Bear Lake, Minnesota. In support of the resident occupancy, the new lakeside property now staffs an on-site sales and leasing office seven days a week. A public grand opening celebration is planned for the second week in July.
Apartments in the 85-unit building are currently being leased with good success. At Home Apartments anticipates even more interest in the one-of-a-kind property as spring weather brings boardwalk visitors. Weather permitting, landscaping in the public plaza area and a rebuilding of Lake Avenue will be completed in May. The city-managed community room is also scheduled for completion in May.
The Boatworks Commons is the result of a public/private partnership between Lander Group, At Home Apartments, the City of White Bear Lake, the Metropolitan Council, Ramsey County, and the Minnesota Department of Natural Resources. As Michael Lander of Lander Group explains, the long-term investment in this White Bear Lake location makes the first resident occupancy particularly notable:
"After more than 10 years of planning by the City of White Bear Lake and its citizens - and almost five for our team - The Boatworks Commons is nearing completion. This property brings new life, new residents, new services and new public amenities - park, community room, parking, and marina bathrooms - to this important waterfront site. It's another big step in fulfilling the dreams and goals of the Marina Triangle Masterplan," says Lander.
Leases for Mainsail Residences' one- and two-bedroom apartments start at $1,195 per month with a wide mix of floor plan and finish combinations. Remaining Flagship Collection homes start at $2,495 per month. Find full property description and availability listings on http://www.boatworkscommons.com or by phone at 651-600-6236.
About At Home Apartments
At Home Apartments manages properties with a focused passion. They combine high-character homes with today's amenities and quality on-site service to create a great resident experience. Currently, At Home Apartments owns and manages over 4,800 apartment units located in the Twin Cities, St. Cloud, and Kansas City, Kansas.