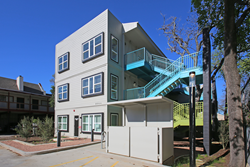 DeSoto, TX (PRWEB) April 14, 2015
Palomar Modular Buildings is releasing a case study for the recently completed Leon Street Student Housing project in Austin, Texas. Nestled amid aging residences near the University of Texas campus in Austin the Leon Street Apartments project stands out as a modern example of modular building capabilities. In an area of highly competitive student housing buildings the investor chose modular from the outset to create a visually appealing, efficient and cost-effective student housing property.
The building consists of five spacious units featuring four bedrooms, two bathrooms and a well-appointed kitchen finished in a modern contemporary style. The 6407 square foot building is composed of 10 seamless modules prefabricated at Palomar's manufacturing facility in DeSoto, Texas, and assembled on site. The project was complicated due to the close proximity of existing fences, structures, power lines and trees directly adjacent to the property.
The Leon Street student housing case study provides valuable insight into the development process behind the company's advanced modular buildings. Design barriers, development challenges and timelines are just a handful of the project details covered in each case study. The company hopes that by sharing the lessons they have learned from years of developing modular buildings that they can show the building process can be traversed quickly and efficiently.
The Leon Street student housing case study along with a host of other case studies are available for download at the company's website.
The company's modular construction process provides building developers with an environmentally-friendly, low waste, cost-effective structure in a fraction of the time it takes with conventional construction.