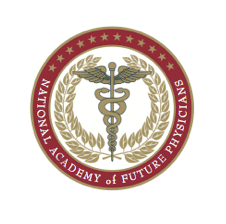 Washington, DC (PRWEB) April 15, 2015
Today, the National Academy of Future Physicians and Medical Scientists announced a new webinar series for Academy members. The webinar series is a free interactive service, allowing students to learn and have their questions answered by current doctors, medical scientists and medical school students. This interactive webinar launches April 21st at 7pm EST. Learn more at http://www.FutureDocs.com.
The Academy offers free services and programs to students who want to be physicians or go into medical science. Some of the other services and programs the Academy plans to launch are online social networks through which future doctors and medical scientists can communicate; opportunities for students to be guided and mentored by physicians and medical students; and communications for parents and students on college acceptance and finances, skills acquisition, internships, career guidance and much more.
The National Academy of Future Physicians and Medical Scientists was founded on the belief that we must identify prospective medical talent at the earliest possible age and help these students acquire the necessary experience and skills to take them to the doorstep of this vital career. The Academy was chartered as a nonpartisan, taxpaying institution to help address this crisis by working to identify, encourage and mentor students who wish to devote their lives to the service of humanity as physicians, medical scientists, technologists, engineers and mathematicians.
The Academy is hosting it's third Congress of Future Medical Leaders, to be held in the summer of 2015 in Boston, Massachusetts, for high school students with a minimum 3.5 GPA (or equivalent). All Congress delegates are nominated by their teachers or the Academy based on proven academic excellence and a demonstrated desire to enter the physician and medical scientist professions.
Contact: Lisa Rossi
Office: 202-599-8442, x701
LisaRossi(at)FutureDocs(dot)com
or
Jillian Katz
JillianKatz(at)FutureDocs(dot)com