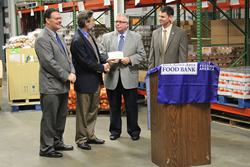 "As a part of the agricultural community, we care deeply and we are always looking for an opportunity to help those in it, especially our neediest citizens"- Director of the Farm Credit of the Virginias' Knowledge Center
VIRGINIA (PRWEB) April 15, 2015
On Wednesday, April 8th a press conference was held at the Blue Ridge Area Food Bank to share information about the food bank's new program-The Farm Fresh Project. The Farm Fresh Project, which is a collaboration between the Blue Ridge Area Food Bank, the Shenandoah Valley Produce Auction and Farm Credit of the Virginias, will help the food bank to focus on securing the majority of their fresh produce supply from local farmers and producers instead of relying on many out-of-state producers as they have done in the past.
In order to help with the purchasing of local produce from farmers in the Shenandoah Valley and across Virginia, Farm Credit of the Virginias, a part of the Farm Credit system which is the nation's largest agricultural lender, announced that they would be donating $25,000 to the program. This money, in combination with matching funds donated by the local community, will be used to purchase fresh produce from the Shenandoah Valley Produce Auction. Dave Lawrence, CEO of Farm Credit of the Virginias presented the check to Michael McKee, Food Bank CEO Wednesday morning during the press conference.
"As a part of the agricultural community, we care deeply and we are always looking for an opportunity to help those in it, especially our neediest citizens," said Matt Lohr, Director of the Knowledge Center with Farm Credit of the Virginias. "A number of citizens amongst us rely on assistance for basic necessities such as their food and we really want to be able to help, so to be able to assist in laying the ground work to help supply food products to these citizens is something we are proud to be a part of."
Farm Credit of the Virginias provides over $1.5 billion dollars in financing to more than 10,000 farmers, agribusinesses and rural homeowners throughout Virginia, West Virginia and western Maryland. Farm Credit is a cooperative capitalized largely through investments made by farmers, ranchers and the rural homeowners and businesses that borrow from them. Farm Credit helps maintain and improve the quality of life in rural America and on the farm through its constant commitment to competitive lending, expert financial services and for facilitating and sharing knowledge and resources through the Farm Credit Knowledge Center. For more information, visit http://www.FarmCreditKnowledgeCenter.com or http://www.FarmCreditofVirginias.com.