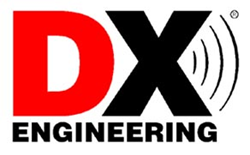 Tallmadge, OH (PRWEB) April 16, 2015
DX Engineering now carries Kenwood Radios, which means operators can enjoy Kenwood performance coupled with DX Engineering's superior customer support and shipping speed. Here is just a small sampling of the latest Kenwood products that can be found at DXEngineering.com:
TS-0990S
Kenwood calls the TS-990S its ultimate 200 watt HF+6M contest/DX transceiver—and for good reason. The TS-990S achieves the best reception performance of any radio in Kenwood's legendary TS series. It's equipped with dual receivers for simultaneous reception on two different bands. The radio incorporates narrow-band high-IP roofing filters, a newly developed mixer circuit, and a built-in antenna tuner to deliver uncompromised performance. Advanced AGC control perfectly fuses analog and digital reception. The TS-990S also features Kenwood's Sky Command II system for full duplex communications.
TS-590SG
Designed for the most demanding DX and contest operators, Kenwood's TS-590SG high performance HF+6M transceiver boasts highly-reliable transmit outputs to deliver an exceptionally good transmit signal. The 100 watt TS-590SG offers the best dynamic range in its class versus off-frequency interference. It features a 32-bit floating DSP, a built-in automatic antenna tuner, beat cancel and CW auto tune. USB and serial DB-9 ports make connection to a PC easy. The radio comes with Kenwood's Control Software and Radio Host Program for VOIP operation.
TM-D710G
With ARPS standard, Kenwood's TM-D710G 2M/70cm radio is an excellent choice for operators looking for a high performance portable digital transceiver. This true dual band radio permits VHF+VHF, UHF+UHF and UHF+VHF operation. The TM-D710G packs 50 watts into a compact unit, and the detachable control head makes it easy to install in a vehicle. The radio's EchoLink™ functionality and built-in GPS make the TM-D710G an invaluable tool for hilltopping and EMCOMM duty.
DX Engineering
http://www.DXEngineering.com
1-800-777-0703