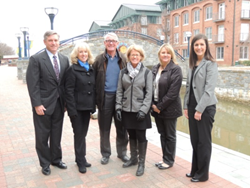 Frderick, Maryland (PRWEB) April 17, 2015
The BB&T Fund, one of more than 660 funds managed by The Community Foundation of Frederick County, has provided grants to two local nonprofits.
Hospice of Frederick County received a $10,000 grant in support of its services offering compassionate and dignified care to terminally ill patients and their families, and to those who are grieving.
Color on the Creek, a local organization dedicated to enhancing the water quality and aesthetics of Carroll Creek Linear Park in downtown Frederick, received a $7,000 grant. The grant will support the purchase and maintenance of lilies, lotuses, and other water plants that limit the growth of algae within in the creek.
"BB&T is a strong community supporter, and we are proud to partner with Hospice of Frederick County and Color on the Creek," said Robert L. Tuggle, Market President, BB&T. "Both organizations, through high-quality leadership and engagement within Frederick County, are positively impacting residents in immeasurable ways."
The Community Foundation works with individuals, families, businesses, and organizations to establish charitable funds that provide grants to area nonprofits serving the community and scholarships to students. Since 1986, more than $38 million has been provided. For additional information about the Community Foundation, visit http://www.FrederickCountyGives.org or call 301.695.7660.