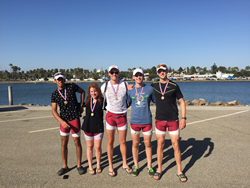 "The boys varsity four have trained very hard since last fall, rowing on the water, on the rowing machines all winter, as well as backcountry skiing, running and lifting weights." Coach Andrew Henrikson
Sandy, Utah (PRWEB) April 15, 2016
The Waterford School men's crew team won medals in three events at the Long Beach Invitational Regatta (April 9 & 10). This regatta typically attracts all of the top rowing clubs throughout the Southwest.
Waterford crew won the boys varsity four with coxswain (4+). The boys in the 4+ were Justin Desautels, Isaiah Bennett, Thomas Beck and Ameen Moshirfar. Victoria Moody was the coxswain. Thomas Beck and Ameen Moshirfar also took gold in the boys varsity pair (2-). In the boys varsity single (1x), Ameen Moshirfar and Thomas Beck placed first and third, respectively.
When possible, the Waterford School crew team practices on the Jordan River Surplus Canal. "The boys varsity four have trained very hard since last fall, rowing on the water, on the rowing machines all winter, as well as backcountry skiing, running and lifting weights," said Waterford Crew Coach Andrew Henrikson.
The Waterford team will petition for a spot in the 2016 Scholastic Rowing Association of America (SRAA) National Championships Regatta on May 27-28 in Zanesville, OH. In the 2015 SRAA National Championships Regatta, Waterford placed fourth in the Mens Varsity 4+ Grand Final.
The Waterford School is Utah's premier private, liberal arts college-preparatory school for students in preschool through grade 12. The school offers a comprehensive liberal arts curriculum including visual art, photography, music, theater, and dance. For more information, visit http://www.waterfordschool.org