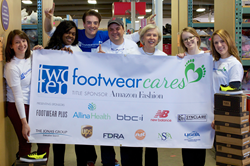 "We are certain that we can change the lives of families in need." - Neal Newman, President, Two Ten Footwear Foundation
Waltham, MA (PRWEB) April 15, 2015
Two Ten Footwear Foundation, the national charitable foundation serving the footwear industry, today announced that as part of its National Footwear Cares Month, the Foundation will participate in a volunteer effort in support of One Boston Day. In addition to sorting clothing and books as volunteers, Two Ten has arranged for a donation of 270 pairs of youth athletic shoes to be distributed to Boston's low income children through the Brighton based Cradles to Crayons organization. The athletic footwear has been graciously donated by The People's Shoe Company, a Two Ten partner in Southern California.
"Footwear Cares is a national initiative, but our home is in Boston and we wanted to make a special effort in support of One Boston Day," said Neal Newman, President of Two Ten Footwear Foundation. "The donation of footwear to Boston's youth is symbolic of the many Boston area citizens who have put one foot in front of the other to recover from the events surrounding the Marathon. By everyone chipping in and caring for each other, we are certain that we can change the lives of families in need."
While these volunteer efforts are in direct support of One Boston Day, they also support a larger, month-long initiative called Footwear Cares. Through Footwear Cares, Two Ten proudly partners with 75 local, regional and national charitable nonprofits to provide volunteer opportunities to the footwear industry with one single objective: getting people back on their feet. Launched three years ago, Footwear Cares now serves as the conduit for over 110 footwear companies to engage in annual community service projects.
Footwear Cares Accomplishments by the Numbers
Since April 1st, footwear companies and their employees have worked with local non-profits in 10 different states at 19 different events. Volunteers packed meals, assembled kids' clothing packs and helped build homes for deserving individuals. The activities were all part of an unprecedented footwear industry community service program spearheaded by Two Ten Footwear Foundation and sponsored by Amazon Fashion.
Some illustrations of the impact

At Bankers Life Fieldhouse, volunteers packaged 300,000 meals for the food insecure in Indianapolis
At the Food Bank for NYC, volunteers packed 23,693 meals and another 3,100 meals at God's Love We Deliver in Brooklyn, NY
14,194 meals were sorted and packed at the Greater Boston Food Bank in MA
Construction on a Habitat for Humanity home for an Iraq War Veteran continued in Westchester, NY
Clothing, books and toys for 3,188 children in need were assembled at Cradles to Crayons in Brighton, MA
4,400 gift bags were assembled for Pediatric Cancer Research Walk participants in California
25,000 meals were packed in the Mid-Ohio, Marin, CA and St. Louis Area Food Banks
About Two Ten Footwear Foundation
Two Ten brings shoepeople together to help each other during crisis and support each other as a community. We are committed to providing emergency financial assistance, scholarships, counseling, services and community building programs that upholds our 75 year legacy of changing lives. To learn more about Footwear Cares, please visit http://www.twoten.org/footwearcares.
###