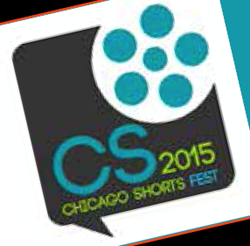 We have received over 120 entries from around the world, all the work of college students.
Chicago, Illinois (PRWEB) April 16, 2015
Media Call
What: 2nd Annual Chicago Shorts Festival – 2015 Screening and Awards Presentation
Who: A Collegiate Film Festival hosted by Robert Morris University Illinois
When: April 22, 2015, 5:00 pm to 8:00 pm
Where: Gene Siskel Film Center, 164 N. State Street, Chicago
Free and Open to the Public; RMU Contact: Shelley LaMantia, 773-844-1717 or slamantia(at)robertmorris(dot)edu
Over the past two months, college students from around the world have submitted entries to the 2015 Chicago Shorts Festival. On April 22, 2015, the winners of the event will be announced and their submissions will be screened at the Gene Siskel Film Center at 5:00 p.m.
The Festival is a venue for collaboration and fosters community among college students, providing them a forum to tell a story, have their voices heard through film, and to be recognized and awarded for their work. It is open to all college students worldwide, regardless of country, major or school they attend. It is free to enter and free to attend.
Entries were received from around the US as well as from eight countries around the world. Over 120 films were submitted.
There are five categories: Animation, Comedy/Parody, Documentary, Drama and Experimental. Prizes will be awarded in each category as long as the entries received a qualifying score. Entries are judged on Originality and Creativity, Pacing and Structure, Cinematography, Entertainment Value, Overall Quality of Production and/or Script.
PRIZES
First place = $1,000 Cash prizes provided by Robert Morris University Illinois
Second place = 1 year subscription to Adobe Creative Cloud provided by Adobe
Third place = Adobe backpack provided by Adobe
The Judges:
Dawn Westlake, Ron de Cana Prods., Inc.
Josh Hester, The Storyteller Studios
Christopher Peppey, Chicago Film Works
We are thrilled at the response to this competition and are excited to reward these students for their outstanding work! We hope to see a big crowd at the event to help them celebrate! The event is free and open to the public.
All 2015 entries can be viewed at vimeo.com/chishortsfest/albums
Robert Morris University Illinois is a not-for-profit, baccalaureate and graduate degree granting institution, accredited by the Higher Learning Commission of the North Central Association of Colleges and Schools.* The University serves over 6500 students interested in getting an education in business, graphic arts, nursing and health care, culinary and computer studies at its main campus in Chicago, as well as at locations in Arlington Heights, DuPage, Elgin, Orland Park, Bensenville, Springfield, Peoria, Schaumburg and Lake County. In all communications, please refer to the university by its full name, Robert Morris University Illinois. For more information, call 800-RMC-5960 or visit the web site at http://www.robertmorris.edu
*Higher Learning Commission of the North Central Association of Colleges and Schools, 30 N. LaSalle Street, Chicago, IL 60602, 312-263-0456.