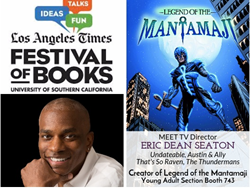 We are sending kids out unprepared to encounter a world that is much more diverse and rich than it is made to appear in literature and comic book culture," Eric Dean Seaton said. "We are stunting their imagination and their futures with one-sided stories.
Los Angeles, California (PRWEB) April 16, 2015
"Representation matters, and not just to minorities," Eric Dean Seaton, television director and creator of the Legend of the Mantamaji series said. "We are sending kids out unprepared to encounter a world that is much more diverse and rich than it is made to appear in literature and comic book culture. We are stunting their imagination and their futures with one-sided stories." With an expected 150,000 book lovers attending this weekend's L.A. Times Book Festival, Seaton hopes to connect with fans and gain new ones of all backgrounds and ages at booth 743 Saturday and Sunday.
"People have sometimes overlooked the series as being 'just for Blacks,' or 'for feminists,' but that's their hangup, not the story's," Seaton said. 'The focus is not on the race of the characters. There's no monologue about being a strong woman in the series. It's not diversity for diversity's sake. The characters are focused on figuring out the mystery and coming to grips with the idea that supernatural forces are going to destroy the world. It's an awesome adventure story with magic, mystery, superpowers, evil doers...everything superhero fans love about the genre."
The Legend of the Mantamaji series brings together diverse characters not tied to stereotypes and has gained the recognition of critics, fans and awards committees alike. Nominated for a prestigious Glyph Comics Award and riding high off the release of the third book in the series, Seaton recently expanded the national book tour to 13 cities in the U.S. and Canada.
Chicago Comic & Entertainment Expo [C2E2] (April 24-26)
East Coast Black Age of Comics Convention Philadelphia, Pennsylvania (May 15 - 16)
Puerto Rico ComicCon (May 21 - 24)
Heroes Convention in Charlotte, North Carolina (June 19-21)
Comic Con San Diego (July 7 - 12)
OnyxCon, Atlanta, Georgia (August 15 - 16)
Wizard World Chicago (August 20 - 23)
Fan Expo Canada in Toronto, Canada (September 3 - 6)
Long Beach Comic Con in Long Beach, California (September 12-13)
Wizard World Columbus in Columbus, Ohio (September 18 - 20)
New York Comic Con (October 8-11)
About Legend of the Mantamaji:
Legend of the Mantamaji tells the story of Elijah Alexander, an Assistant D.A. who has learned that his childhood storybook legends are actually the true stories of his heritage and that he is the last of a race of mystical knights known as the Mantamaji. After realizing he's only part human, Elijah struggles with the shift in his world and becomes a hunted man charged with ridding the world of an ancient evil no other Mantamaji has ever been able to defeat. The full-color, action packed series has hair-raising plot twists and smart storytelling for all superhero fans.
The books feature artwork by Brandon Palas, colorist Andrew Dalhouse who has worked with From Boom, Dark Horse, Image, Marvel and DC and lettering by Deron Bennett, who was nominated for an Eisner Award for his work on titles like Jim Henson's Dark Crystal, Jim Henson's Tale of Sand and Helldorado, among others.
Praise for Legend of the Mantamaji:
"Fans who bemoan the 'big two' for a lack of vision, or effort, to create bold new characters and franchises, should learn that innovation can often be found elsewhere. 'Legend of the Mantamaji ' has all of the excitement, imagination and suspense to be a TV or film series on its own, but instead it is here as a comic to be enjoyed by the masses who crave them. 'Legend of the Mantamaji' volume one is a must read for those who crave all of the spectacle and action of superhero comics, yet want a comic which offers creative new ideas and a progressive storyline with real weight behind it," Alex Widen, Brooklyn Comic Book Examiner
"Eric Dean Seaton is an accomplished director and producer but he's been hiding his true talent for writing comic books and I think it's time to unleash them into the world." Janneke de Ronde, Small Press Comics Review
"Legend of the Mantamaji is teevee director Eric Dean Seaton's (Sonny with a Chance, That's So Raven, Good Luck Charlie) first shot at writing comics, but this is clearly a professional storyteller with writing chops and a lifelong love of the medium, both of which are on full display here. I am not sure what I expected when I was invited to review Legends of the Mantamaji, but I can tell you I was definitely impressed by the quality world-building and storytelling." --GhettoManga.com
About Eric Dean Seaton:
As an episodic director, Eric Dean Seaton has directed 200 television episodes of 38 different hit TV series, including NBC/Warner Bros. comedy "Undateable," TBS's "Ground Floor," BET's "Let's Stay Together," Disney's "Austin & Ally" and Nickelodeon's "Bella and the Bulldogs." He has also directed 18 music videos and two pilots for Nickelodeon, as well as two pilots for Disney XD. Seaton is a Cleveland, Ohio native and graduate of The Ohio State University. Eric, his wife children live in California. Legend of the Mantamaji, named a Top Graphic Novel series by Examiner.com and Atlanta Black Star, is his first graphic novel series.
For Media Interview | Book Review Requests Contact: Terreece M. Clarke, (614) 467-0361 | Press(at)Mantamaji(dot)com or TClarke(at)LifeSliceMedia(dot)com | LegendoftheMantamaji.com