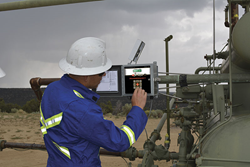 "We're very happy with the results of this case study," said Mark Scantlebury, president and CEO of ETC. "We knew our controllers were able to provide better value for our customers but it is great to see quantifiable results."
Calgary, Alberta (PRWEB) May 04, 2015
Joseph Olivarez, a South Texas artificial lift manager who works to optimize wells with major producers in Texas, noticed that the wells weren't producing to their full potential. Upon replacing a competitive auto-adjusting controller with an ETC auto-adjusting controller, well production more than doubled and the dollar value increase amounted to $1,000 per day. This means the controller paid for itself within two days, resulting in a 16,000 per cent return on investment in a single year.
"We're very happy with the results of this case study," said Mark Scantlebury, president and CEO of ETC. "We knew our controllers were able to provide better value for our customers but it is great to see quantifiable results."
The ETC controller used was the Hammerhead I model, part of Priority Energy Services plunger lift controller line. Designed and manufactured by ETC, it is a Class I, Zone 0 (Div 1) certified base model controller. It is a more rugged and reliable plunger lift controller with patent-pending optimization designed to withstand extreme conditions in temperatures as low as -40°C and up to +70°C (-40°F to +160°F).
To see the complete case study, please see http://etcorp.ca/plunger-lift-controller-case-study.
-30-
About Extreme Telematics Corp.
Extreme Telematics Corp. (ETC) is a manufacturer of oilfield electronics based in Calgary,Canada. In 2001, ETC set out to deliver certified plunger lift controls that would operate reliably in Canada's often harsh conditions. Today, ETC plunger lift controls and sensors dominate the Canadian market, and are quickly gaining traction in the United States. In addition to the ALiEn2 plunger lift controller, ETC's plunger lift product line includes the well-known Cyclops plunger arrival sensor and the Sasquatch plunger velocity sensor, which will begin field trial with several major producers in spring 2015.
About Priority Energy Services LLC
Since 2008, Priority has delivered top quality, professional oilfield services utilizing highly experienced personnel and state of the art equipment. Priority's diverse lineup of energy services includes Artificial Lift, Coiled Tubing, Equipment Rental Services, Portable Flarestacks, Nitrogen Services, Oilfield Production Services, Wireline Services, Well Testing, and Vacuum Services.
For more information, please contact:
Jehn Scantlebury, Marketing Manager
communications(at)etcorp(dot)ca
(403)290-6300