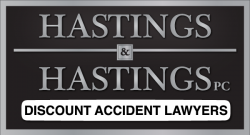 Phoenix, AZ (PRWEB) April 20, 2015
Hastings and Hastings, a lawyer focused on personal injury legal representation in Arizona announces record demand in 2015 for drunk driver caused accident injury legal representation. With drunk driving related events on the rise throughout the state of Arizona, there has been a growing demand for legal representation associated with injuries caused by drunk drivers. Motor vehicle operators and truck drivers operating a vehicle under the influence have caused many accidents and loss of life related events over the years. When an untimely accident happens because of a drunk driver it is important to work with an experienced, focused and dedicated personal injury law group in the Arizona area.
Hastings and Hastings has established itself as a dedicated and focused professional personal injury law firm with more than 30 years of experience in the industry. With a trusted reputation and a proven track record, Hastings and Hastings is always standing by and ready to assist those who been injured because of the poor judgment, negligence or malfeasance of a drunk driver. Being involved in accident where the other driver was drunk can be a devastating event and especially devastating for those who are seriously injured or where loss of life occurs. Hastings and Hastings works closely with family members and injured parties to achieve the best possible recovery. From fair and aggressive negotiating with insurance companies to taking the recovery effort to full trial, the firm is always standing by and ready to assist victims of drivers who caused an accident while under the influence.
Other common situations routinely handled by Hastings and Hastings include motorcycle accidents, biking accident, pedestrian accidents, dog bite related accidents, slip and fall accidents and a host of other accidents that happen each and every day across the state. Whether an accident occurs in the workplace, in public or at home, working with an experienced and dedicated personal injury attorney is often the best option. Gaining a recovery is important to handling the ill effects of lost wages, ongoing medical treatment and debilitating medical expenses. In short, a recovery is an essential and important element of helping individuals return to a better and more normal way of life.
Hastings and Hastings has been serving the Arizona community for more than three decades and has cumulatively saved clients over $11 million in just the last seven years. It is the substantial amount of savings that has enabled the firm to continue to provide clients with dedicated and focused service at discounted rates. The firm offers free consultations at home, in the law office or in the hospital. This recent announcement with regard to record demand in 2015 for drunk driver caused accident injury legal representation is one more bit of proof that Hastings and Hastings stands behind its promises on a daily basis.
Hastings and Hastings is a leading provider of discount personal injury legal services located in and serving the greater Phoenix Metropolitan area. This respected legal firm specializes in assisting individuals that have been the victim of serious injuries that have resulted from accidents that were no fault of their own. Hastings and Hastings is a trusted group of attorneys that deliver personalized service and guidance for injury victims throughout Phoenix and all across the state of Arizona. Hastings and Hastings is known throughout legal circles as a dedicated team of professionals and a law firm that has been representing accident victims throughout Arizona for decades. Hastings and Hastings has consistently exceeds client's expectations with regard to representing a wide array of accident related injury victims at times when it matters the most and always doing so with discount attorney's fees.