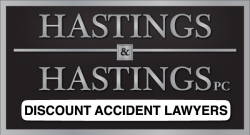 Phoenix, AZ (PRWEB) April 30, 2015
Hastings and Hastings, a personal injury law firm with 11 total convenient locations throughout the greater Phoenix metropolitan area, announces record demand in 2015 for property damage legal representation in the state. The firm handles an array of accident injury related matters and has a total cumulative level of experience that exceeds more than 150 years. The firm handles an array of accident related matters where innocent victims have been injured through no fault of their own. From dog bite related incidents to pedestrian accidents and bicycle accidents as well as car, SUV and truck related accidents, injuries do happen each and every day across the state. Hastings and Hastings is always standing by and ready to help those who have been injured due to someone else's lack of good judgment or errors.
Other common types of accidents that result in injuries include everything from motorcycle collisions to slip and fall related events and trucking related accidents. 18-wheeler and trucker related accidents are particularly troubling because they often result in catastrophic and serious injuries as well as loss of life events. Working with an experienced and dedicated team of focused personal injury attorneys is often the best option for those wishing to gain a recovery in order to offset losses resulting from an accident. Particularly troubling are the ongoing and sometimes debilitating expenses associated with medical care when an accident has occurred. Medical expenses can devastate a family financially. That is why a recovery is so incredibly important when an accident has occurred.
Other events such as wrongful death related matters are routinely addressed by this team of professional personal injury lawyers in Arizona. Offering a genuine no fee prompt to all clients, Hastings and Hastings makes it very clear that if there is no recovery that the client will simply owe no legal fees of any kind. Even the costs associated with establishing a recovery effort are dutifully waved when there is no recovery. It is this level of client dedication that has allowed the firm to grow to several offices throughout the greater Phoenix area.
Having saved clients millions of dollars in the last seven years alone, Hastings and Hastings stands behind its promise of providing aggressive and impressive discount attorney's fees for accident victims. Most importantly, the fee quoted during the initial consultation is the fee that it will remain throughout the entire duration of any recovery related efforts. This is in stark contrast to other firms that often change and modify fees as a recovery effort progresses. This recent announcement with regard to record demand in 2015 for property damage legal representation in Arizona is just one more obvious indication that Hastings and Hastings strives to deliver focused and professional personal injury legal representation for accident victims throughout the state.
Hastings and Hastings is a leading provider of discount personal injury legal services located in and serving the greater Phoenix metropolitan area. This respected legal firm specializes in assisting individuals that have been the victim of serious injuries that have resulted from accidents that were no fault of their own. Hastings and Hastings is a trusted group of attorneys that deliver personalized service and guidance for injury victims throughout Phoenix and all across the state of Arizona. Hastings and Hastings is known throughout legal circles as a dedicated team of professionals and a law firm that has been representing accident victims throughout Arizona for decades. Hastings and Hastings has consistently exceeded clients' expectations with regard to representing a wide array of accident related injury victims at times when it mattered the most and always doing so with discount attorney's fees.