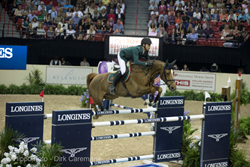 Stamina will count for a lot now, they need to be in top shape to jump again on Sunday
(PRWEB UK) 18 April 2015
Switzerland's Steve Guerdat showed exactly why he's the reigning Olympic champion when coming out on top in the gripping second leg of the Longines FEI World Cup™ Jumping 2015 Final at the Thomas & Mack arena in Las Vegas, USA tonight. Anthony D'Ambrosio's course proved very tough indeed, and just six of the 32 starters qualified for the jump-off against the clock in which the 32-year-old rider and his 12-year-old mare, Albufuehren's Paille, clinched it with a superb run when second-last to go.
It was a thriller from the outset, and with the crowd getting behind every competitor the atmosphere was electrifying. The home supporters had even more to cheer about when four of the six to jump first-round clears were flying the US flag, 2013 champions, Beezie Madden and Simon, filling second spot at the end of the night ahead of Lucy Davis and Barron in third, while the 2012 champions, Rich Fellers and Flexible, finished fourth. Norway's Geir Gulliksen and Edesa S Banjan lined up fifth ahead of America's McLain Ward and Rothchild in sixth.
Proven right
Course designer, Anthony D'Ambrosio, accurately predicted the number that would make it into the jump-off, but those spots were hard-earned as his first track took a heavy toll. Poles fell all around the course, with the line from the triple bar at seven to the following double - vertical to oxer on a three-stride distance - claiming plenty of victims. But it was the penultimate triple combination of two big oxers followed by a vertical that was the bogey of the night. A total of 16 horses faulted here, and D'Ambrosio said afterwards, "there was a difficult choice of distances, and either choice needed to be executed to perfection. Many of those who chose to go on six strides ended up without enough impulsion at the middle element, and I was surprised more didn't go for the five".
Last into the ring first time out were Thursday's Speed-leg winners Bertram Allen and Molly Malone, and they went on the five strides here, clearing the two big oxers only to lower the final vertical. However with the quickest four faults, the 19-year-old Irishman slotted into seventh place to keep himself well in contention going into Sunday's finale when his mare may well feel the benefit of not having had to return to the ring for a second time tonight.
Against the clock
Gulliksen led the way against the clock, faulting at the third-last, and Davis showed there was plenty of room for improvement on his time of 40.06 when she shaved almost eight seconds off that with a brilliant round from Barron that went perfectly to plan until they lost their distance to the final fence and left that on the floor.
Third to go, Madden produced the first clear in 33.31 seconds, but it wasn't all plain sailing as she explained. "I can be fastest with Simon on the turns, and I angled the liverpool (second fence on this track) but he lost his footing to the skinny (following vertical) and I had to do an extra stride to the double as a result. I felt a bit rattled, but we picked it up and I thought we did pretty well in the end" she said.
Ward was next to go, but his round fell apart when Rothchild ground to a halt at the skinny vertical, third fence on the course, and they completed with 18 faults on the board. In stark contrast however, Guerdat's tour of the track was as smooth as a bar of Swiss chocolate, the mare who helped him win the Western European League qualifying series with a last-leg victory in Gothenburg, Sweden last month, breaking the beam in 32.87 seconds to take the lead. And when, last to go, Flexible hit the first fence, Fellers was only challenging for a strong four-fault result as he raced home in 32.80 seconds.
As many points as possible
Guerdat said the courses so far have been very tough. "We will have to see which horses recover best after the last two days. Stamina will count for a lot now, they need to be in top shape to jump again on Sunday" he pointed out. And Madden agreed. "Now it comes down to clear round jumping and speed doesn't count so much. There's usually a lot of movement in placings on the last day, and in a small indoor like this, well anything can happen!", she said.
The Longines FEI World Cup™ Jumping title is one that has eluded Guerdat, and it's been a pretty frustrating experience. "In 2012 I went into a jump-off with Rich and he won, and in 2013 it was a jump-off with Beezie and she won, and then last year I was leading going into the final day and I messed up again!" he said with a laugh tonight. So maybe this time lady luck will be on his side, but we have to wait until Sunday to find out.
And with results turned into points after the first two competitions it's going to be edge-of-the-seat excitement to the very end, because Guerdat and Fellers now share the lead on a zero score, closely followed by Bertram Allen carrying just one penalty point while Penelope Leprevost from France is next in line with five. It's still very much all to play for before the destination of the 2015 Longines title is decided.