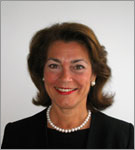 Mack International uses a proprietary process that has consistently yielded a superior track record of success since its founding.
Chicago, IL (PRWEB) April 20, 2015
Mack International LLC, the premier strategic family office/wealth management executive search and human capital consulting firm, announced that its Founder and President, Linda C. Mack, will be a featured presenter at the IFG Wealth Management Forum 2015, held April 20-21 at the JW Marriott Scottsdale Camelback Inn Resort & Spa in Arizona.
Mack's presentation, "Recruiting and Retaining Executive Talent for Family Office Leadership Roles," provides a detailed review of a proven best practice process that will enable any family to successfully identify, recruit, motivate and retain the key talent needed to lead a family office and accomplish the family and family office goals and objectives.
"The process absolutely works, but there are no shortcuts to success," Mack said. "If you want to do it right and do it right the first time, you need to be diligent and disciplined in following a comprehensive process to ensure a successful outcome. There is a very limited supply of professionals who possess the requisite qualifications for key family office leadership roles, and there are far fewer who will also be the right "culture fit" for the family," Mack continued. "You can't afford to miss finding the "ideal" candidate and you can't afford to lose the ideal candidate once you have found them."
In the session, Mack will describe the details of this process that has enabled the firm to achieve a superior track record of success since its founding 13 years ago. Mack will also share stories of best practices that have led to successful family search outcomes, as well as stories of what can cause family searches to fail, and lessons to be learned from those experiences.
About Mack International LLC
Mack International, LLC, is the premier global retained executive search and strategic management/human capital consulting firm serving national and international clients in the family office, family business enterprise and the wealth management industries. Founder and President Linda C. Mack develops close, consultative partnerships with clients and candidates, sharing her deep knowledge and broad experience to achieve success. She has established proprietary methodologies such as the Mack 360© and originated the term "expert generalist" in the industry. For more information, visit http://www.mackinternational.com or call 800.976.0015.
IFG Wealth Management Forum
IFG's Wealth Management Forum provides a unique platform for investment decision makers from single and multi-family offices to engage in vibrant sessions and gain practical solutions to achieve optimal portfolio returns. The Wealth Management Forum invites only the most Senior Investment Managers from North America's largest family offices.