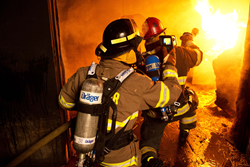 Pittsburgh, PA (PRWEB) April 21, 2015
Draeger today announced that it has secured National Fire Protection Association (NFPA) certification for its standard-resolution UCF 6000 and UCF 7000 thermal imaging cameras. The company is also introducing a new, NFPA-certified addition to its product line, the UCF 8000. Draeger's top-of-the-line UCF 9000 thermal imaging camera received NFPA certification in December 2012.
Draeger is now the only manufacturer to offer a full line of NFPA-approved thermal imaging cameras, enabling fire departments to choose the cameras that best meet their needs and budgets. Firefighters use these cameras to assess fires, identify avenues of fire spread, and determine the location of injured or trapped persons. In order for a camera to be compliant with the NFPA 1801:2013 standard – one of the most sophisticated technical documents produced by the NFPA committee – it must meet rigorous requirements for durability, while maintaining a consistent, high level of image quality.
"Securing NFPA compliance for our entire line of thermal imaging cameras is a significant achievement for Draeger and gives the broadest range of options to the fire service," said Lothar Thielen, President North America Region, Draeger. "Fire departments now have a range of options from which to choose when selecting an NFPA-compliant camera based on their needs and budgets."
The Draeger UCF 6000 and UCF 7000 are the first standard-resolution cameras (160 x 120 pixels) on the market to meet NFPA requirements for thermal imaging. Both cameras offer excellent image quality under the most extreme conditions, with true one-hand operation, laser pointers for better localization, and a snapshot function for freeze-framing of difficult areas. The UCF 7000 also features 2x zoom capabilities, video and sound recording functions, and the ability to capture and record individual images.
The newest addition to the Draeger thermal imaging camera family, the UCF 8000, offers all of the features and benefits of the UCF 7000, plus 44 percent more detail with 384 x 288 pixel resolution. The advanced imaging capabilities of the UCF 8000 make it possible for firefighters to optimize the image display of the camera for the specific task at hand. For example, the camera's display can be optimized for finding individuals or sources of heat.
The Draeger UCF 8000 features three operating modes – Fire (firefighting), Persons (search and rescue) and ThermalScan (searching for hotspots) – providing firefighters with better insights into any situation. Even in conditions where fire, smoke, or darkness make visibility extremely limited and navigation difficult, the UCF 8000 enables firefighters to scan rooms and the surrounding vicinity quickly and safely.
All Draeger UCF thermal imaging cameras are approved for use in potentially explosive atmospheres and are UL approved Class 1 Division 2.
For more information about Draeger's fire service solutions, go to http://www.draeger.com/fire.
Draeger. Technology for Life®
Draeger is an international leader in the fields of medical and safety technology. Our products protect, support and save lives. Founded in 1889, Draeger generated revenues of around EUR 2.43 billion in 2014. The Draeger Group is currently present in more than 190 countries and has about 13,500 employees worldwide. Please visit http://www.draeger.com for more information.