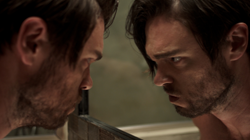 Windsor Drive is an intensive, immersively cinematic gem, and one of the best screen depictions of madness I've ever seen. – HK and Cult
Hollywood, Calif. (PRWEB) April 21, 2015
Multi-talented filmmaker, Natalie Bible', makes her feature-length directorial debut with the hypnotic, psychological thriller Windsor Drive. The film stars Tommy O'Reilly as Rive Miller, a mentally unstable actor haunted by the past who moves to Hollywood to start his life over. However, he soon realizes that his inner demons are inescapable. Windsor Drive also stars Samaire Armstrong (Stay Alive, Entourage), Jillian Murray (The Squeeze, Cabin Fever: Patient Zero), Matt Cohen (Supernatural, 90210) and Mandy Musgrave (Days of Our Lives).
Bible' is a young director, editor, & sound designer who is already beginning to make a mark in the industry with her Lynch-esque style and powerfully visual storytelling.
Windsor Drive opens in Theaters via Indican Pictures this Summer. For more info, please visit the Windsor Drive Film Official Website.
Critic Reviews:
"Windsor Drive is an intensive, immersively cinematic gem, and one of the best screen depictions of madness I've ever seen." – HK and Cult
"Director Natalie Bible' makes her feature debut with the hypnotic, Lynchian-looking psychological thriller Windsor Drive". - ScreenRelish
"…there is a uniqueness about this film that makes it stand out from the crowd and stick with you as a film you will be recommending to everyone you know."- ScreenNut