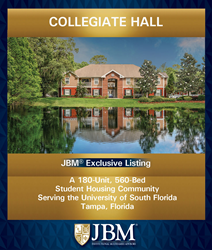 Tampa, FL (PRWEB) April 21, 2015
JBM® launched to market Collegiate Hall, an off-campus, purpose built student housing community serving the University of South Florida, one of the largest university systems in the country with an excess of 48,000 students enrolled as of the fall, 2014 semester. The main Tampa campus has a total enrollment of approximately 42,000 including 30,000 plus undergraduates. The main Tampa campus also houses the prestigious USF Medical School. USF was named as one of the top 100 Best Values in Public Colleges by Kiplinger's Personal Finance.
The property was completed in 2000, featuring a two and three-story garden style community, offering 2 and 4 bedroom suites, each with private bathrooms and lockable outside storage. The Property is a prime candidate for a value-add strategy which would immediately increase the overall appeal of the property and re-position the asset to better compete with the newer student housing communities. The Property is conveniently located just one mile south of the University of South Florida main campus.
About JBM® Institutional Multifamily Advisors
JBM® Institutional Multifamily Advisors is the most reliable source of brokerage services in the institutional multifamily asset and investment industry with Florida offices located in Tampa, Orlando, and Naples. JBM® specializes in the sale of high-rise, mid-rise and garden style apartment communities throughout the Southeast United States and focuses exclusively on asset disposition services, capitalization and recapitalization of existing and merchant development opportunities of large apartment type portfolios and singular assets for domestic and foreign institutional, private, national and regional clientele.
The firm's collective team efforts have exceeded $8.9 Billion and over 102,000 apartment units listed, marketed and sold. The firm delivers a strong legacy of excellence in representation and the most effective investment sales platform throughout the Southeast United States, meriting Jamie May and JBM® as a trusted leader in the multifamily industry.
If you would like more information about this property or to schedule an interview with Jamie May, Chairman & CEO or Eddie Yang, Principal and Executive Director please, contact Claudia Raines at 813.812.5003 or email. To learn more, please visit: JBM.com