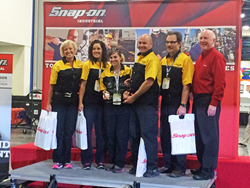 It says we are one of the top schools in the country. It really makes us stand out in front of all the professionals.
Salt Lake City, Utah (PRWEB) April 22, 2015
For the first time ever, a team of Salt Lake Community College aviation maintenance students, including three females, brought home a first-place prize from the annual Aerospace Maintenance Competition, which this year was held April 14-16 in Miami.
The prize is a big deal for Todd Baird, program coordinator for SLCC's aviation maintenance program. "We get national notoriety for our students and their skills," Baird said. "Even though we're a community college, we're competing against four-year schools, private schools and other community colleges. It's nice to be in the conversation about schools to attend for aviation maintenance. By winning this competition, we are definitely in that conversation."
Assistant professor of aviation maintenance, Jamie Horning, accompanied 10 students, all of whom raised their own money through SLCC's Aviation Maintenance Club. Divided into two teams, the prize-winning "yellow" team consisted of Gary Driscoll, Gina Gottfredson Kelly, Rozie Nelson, Scott Pugh and Rachel Williams. Teams compete at timed skills tests that include safeguarding components of an airplane, repairing a cockpit window, removing sealant from parts and troubleshooting instruments that measure air speed and altitude. Those who finish the fastest and with the least amount of errors emerge the winners.
"It says we are one of the top schools in the country. It really makes us stand out in front of all the professionals," Horning said. "They did a great job. They worked their tails off to get where they got." For one of the skills tests that involved fabricating a new line for hydraulic fluid and retesting the line, the college and university teams competed against professionals in the aviation industry, the military and private maintenance repair operations – and SLCC beat them all in a competition in which few females participate. SLCC's yellow team was the only one with three females.
"It's pretty awesome, because there's not many women competing," said Gottfredson Kelly. "We just put our all into it – 110 percent." Her team practiced the skills they'd need every afternoon leading up to the competition and every day during their spring break. She is pursuing an associate degree for aviation maintenance technician and, because of the competition, has already drawn interest from companies like UPS and FedEx. "It's been a man's world, and women are realizing, 'Hey, we can do it,'" she said. "It's becoming more and more prominent that women are seen that they can do it, if not better."
Salt Lake Community College is an accredited, student-focused, urban college meeting the diverse needs of the Salt Lake community. Home to more than 60,000 students each year, the College is Utah's leading provider of workforce development programs. SLCC is also the largest supplier of transfer students to Utah's four-year institutions and a perennial Top 10 college nationally for total associate degrees awarded. The College is the sole provider of applied technology courses in the Salt Lake area, with multiple locations, an eCampus, and nearly 1,000 continuing education sites located throughout the Salt Lake Valley. Personal attention from an excellent faculty is paramount at the College, which maintains an average class size of 20.